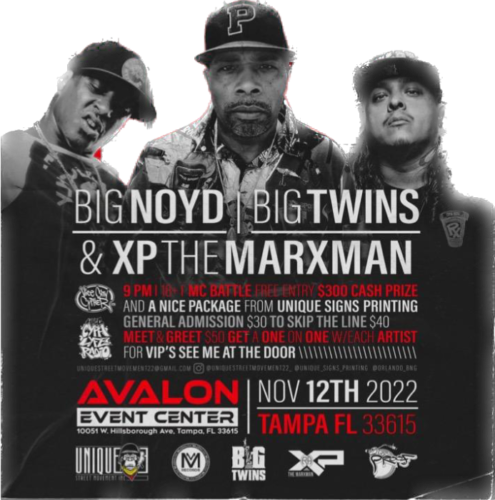 Unique Street Movement presents The Infamous Night, a live hip-hop production on November 12th, 2022 at Avalon Event Center in Tampa.
This show has performers for hip-hop fans both old and young. The lineup features many established artists and artists just beginning to make waves in the industry. Come watch performances by Big Noyd, Big Twins, and XP the Marxman, along with many other emcees and DJs from across the United States.
Aspiring emcees will also be able to show their skills during the emcee battle. The winner will be awarded a cash prize of $300 and custom signs and branding package from Unique Signs Printing.
This is an all-ages event. The doors open at 7 PM for the meet and greet and the show will begin at 9 PM.
Tickets are available at Uniquestreetmovement.com
© 2022, Seth "Digital Crates" Barmash. All rights reserved.