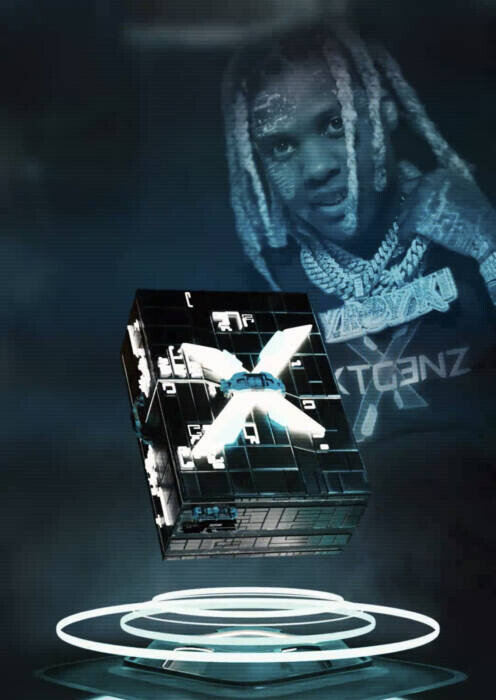 LIL DURK PARTNERS WITH NFT GIANTS SATOSHI DESIGNS & NEXUS WITH A MISSION TO REVOLUTIONIZE THE SNEAKER INDUSTRY
LIL DURK WILL INSPIRE OTHER GEN-Z INFLUENCED MUSIC ARTISTS TO ENTER THE METAVERSE
Lil Durk branches out into the world of cryptocurrency after making an announcement of his '7220' NXTG3NZ NFT digital sneaker drop to his 12.8M followers on Instagram today. Making his mark in a lucrative industry with custom outfits and gaming skins for avatars being a $40 billion industry and projected to grow to $265.4 billion by 2026. Co-founded by Lil Durk, Satoshi Designs and Nexus, the NXTG3NZ digital wearables is set to revolutionize the footwear industry in the metaverse.
Lil Durk, who is already on top of the food chain in the music industry, tying Taylor Swift with the most Billboard Hot 100 hits of 2021 with 41 songs, including eight Top 40 hits, will set to take over the metaverse as well. The first launch of the '7220' sneaker collection will have 10,000 tokens in total and be used on Avatars across the digital realm whilst still proving ownership in the physical. Owning a '7220' NXTG3NZ digital sneaker will come with exclusive member benefits.
NXTG3NZ is designed by the legendary Devonte 'Black' Young. Devonte is most notable for his streetwear brand Enspire and collaboration with Nike as lead designer of 3 pairs of sneakers for his childhood friend, Kevin Durant. He will personally hand design 6 pairs of shoes working alongside industry renowned 3D artists. The design elements will entail futuristic aspects, textures from the solar system, and robotic add ons in a magnitude of colorways and patterns. Included in Lil Durk's 7220 NXTG3NZ road map, Genesis token holders will get an opportunity to design a pair of sneakers with Devonte and their elite creative team.
In the next phase, NXTG3NZ will be the go-to for digital collections both in the meta and real world with signature collections by your favorite athletes and entertainers. Every sport that enters the Meta-Verse, will have NXTG3NZ gear as their key to top performance and style in both the physical and digital world. As a charitable component, the NXTG3NZ Community pool will be allocated through a DAO to help combat sweatshops and underage workers around the world.
"The power has shifted to the artists and their fans with Blockchain tech. I want to not only be a successful rapper/entrepreneur but a powerhouse voice in the metaverse and NFT community, at the forefront of this movement." says Lil Durk
NXTG3NZ have taken extra steps to implement a 'Leaderboard' on www.NXTG3NZ.com to publicly display the official line up of whitelist members. If you are not on the website, it isn't official. Once you have officially been listed on the whitelist leaderboard, you will be assigned a #. That number will be attached to your Discord username and your spot is then secured. Whitelisted members who list their tokens for sale right after minting will be placed on the banned list for future NXTG3NZ signature drops.
"We're here to show the world you don't have to be a genius or have 5 degrees to learn the NFT and Crypto space. As we understand the process, we're teaching the community in terms they understand. It's not rocket science. We can all win together!" says Stally (CEO of Satoshi Designs)
Pre-sale will be announced exclusively on Lil Durk's IG page mid-March. Fans will have to stay tuned for the official drop date information.
For more information on NXTG3NZ visit www.NXTG3NZ.com
© 2022, Seth "Digital Crates" Barmash. All rights reserved.