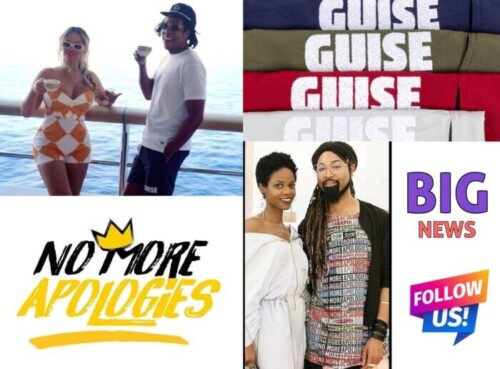 These stylish apparels are something to get your hands on! The DJR Experience's "No More Apologies" and Aron's "Guise" clothing have already caught the eye of the Queen's camp; husband Jay-Z & long time friend and stylist Ty Hunter.
If you watched VH1's "My True Crime Story," Aron talks about his story of how he went from street dealer to a legitimate business owner with his clothing brand. "Guise" coming from the word disguise, Aron says he came up with the title to express his authenticity as a whole & to show the world his best self. He's also had other celebrities in our entertainment business wear his apparel such as Fabolous & Love and Hip Hop's own, Mendeecees and Yandy Smith, just to name a few. Be sure to follow Guise clothing on Instagram so you can get your hands on these stylish pieces: @guise_co.
The DJR Experience's owner, Devin J. Ricks created the clothing brand "No More Apologies" for the people who live their lives unapologetically & never apologizes for putting themselves first when it matters most. The entrepreneur, who recently became a Promotions Coordinator for iHeart Radio says, "It's more than just a brand, It's a lifestyle." He's also had cast members wear his clothing apparel from past cycles on Love & Hip Hop Atlanta. He says, "If you're unapologetic, then prove it!" Be sure to check out their Instagram page: @thedjrexperience to get your hands on these stylish pieces as well.
We support our black owned business owners! It's quite apparent that these two brands/individuals are well on their way & have a lot in common with their hustle and social circles. Did you know that Jay-Z & Ty Hunter both wore these brands' clothing during New York Fashion Week? AMAZING right?! Be sure to support these incredible designers! As they say, if it's good enough for the beehive's intermediate family, then it has to be good for us (laughs).
To keep up with all things "Guise" & "No More Apologies" you can also visit their websites for direct access: www.Guise.co & www.TheDJRExperience.com.
© 2022, Logan. All rights reserved.