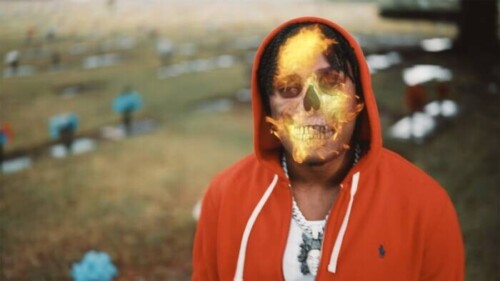 A new single from Fredo Bang was released yesterday (August 1) entitled "2 Death," produced by Hardbody-B-Eazy and containing bars regarding disloyal women, staying true to one's self, and the pitfalls of street life:
"2 Death" is accompanied by a video directed by Jolo, in which Fredo Bang walks through a cemetery. In addition to delivering his rhymes in the backyard of his lavish home, the Baton Rouge star can also be seen doing so in the streets of the city.
Earlier this year, Fredo Bang released his second album Two-Face Bang 2, a follow-up to his 2018 debut Two-Face Bang. Featured on the project were 19 songs, including performances by Rob49, Sleepy Hallow, Roddy Ricch, YNW Melly, and Money Man. Prior to that, he released a 16-track EP called Murder Made Me, in which he teamed up with BIG30, Coi Leray, Polo G, and Mozzy.
A recent interview with Fredo Bang on "Big Facts" revealed that he was haunted by survivor's guilt following the tragic death of Gee Money, his longtime friend and fellow music peer back in 2017:
Everyone who knew me used to say that we were like the sun and the moon. An approachable person, he was. My behavior was such that I wouldn't even talk to anyone. As an antisocial motherfucker, I was a psychopath. Furthermore, he was in the city waiting for me. "I should have been home by that week.
© 2022, Derek Charles. All rights reserved.