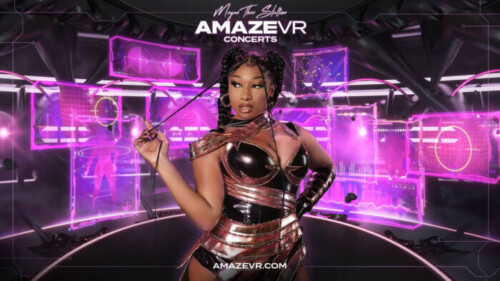 AmazeVR's Megan Thee Stallion-starring Enter Thee Hottieverse VR concert, which toured in-person at AMC theaters across the US and sold out shows in 15 cities this summer, is now available on the Meta Quest App Lab store. Interested users can download the app for free and trial one of the songs before purchasing the full show. This new version has added interactivity for users and a behind-the-scenes video unlocked after the concert.
This experience is available for $6.99 during the launch period, and then $9.99 after that. That's cheaper than a movie ticket or Beat Saber pack and much, much cheaper than a ticket to actually go see Megan Thee Stallion in person. AmazeVR's goal is to create incredible VR concerts for as many artists as possible, giving their fans another way to see their favorite acts at a fraction of the cost and in the comfort of their own homes. This journey to Thee Hottieverse is a massive step towards that goal, with much more already in the works.
You can find the concert in the Meta Quest App Lab by searching "AmazeVR Megan Thee Stallion VR Concert."
AmazeVR blew away Megan Thee Stallion fans this year with the Enter Thee Hottieverse VR Concert Tour, reaching 15 major cities across the US. Now, Thee Hottieverse is available on the Meta Quest App Lab, where fans can access the full VR concert complete with new interactive elements, and other fandom essentials.
Fans can now find AmazeVR's app and preview a song from the VR Concert for free. Additional in-app purchases, including the full experience, are available for $6.99 for a limited time. With purchase, fans can relive each performance, and share their headset with friends and family so they can experience the Hottieverse, too.
Find AmazeVR and Megan Thee Stallion in the Meta Quest App Lab by searching "AmazeVR Megan Thee Stallion VR Concert."
"The Enter Thee Hottieverse VR Concert Tour gave fans the chance to connect with Megan Thee Stallion in a new way. Now, our at-home VR concert is the next step in sharing this experience with those who weren't able to join us on tour," says Steve Lee, Co-CEO and Co-Founder of AmazeVR.
As the first-ever virtual reality tour of its kind, AmazeVR and Megan Thee Stallion made history as AMC Theatres were converted to host fans as they experienced Thee Hottieverse. This isn't your artist look-alike avatar giving a performance, it's really Megan Thee Stallion. Fans are transported to their front-row seat at the center of an interactive and futuristic stage, where Megan Thee Stallion and her crew of backup dancers perform right to her fans like never before. Check out concert reactions on AmazeVR's TikTok.
"This is insane!!! It felt like Megan was dancing in front of me in real life," One user said in their review. "I could feel her energy run through my veins!! I had originally planned on watching the concert on my couch, but I ended up dancing with her throughout the entire concert. I loved the realistic special effects and the futuristic set designs, as well as the interactive movements I could make with my hands. I'm soooooo excited to see more concerts using this app, and I hope more and more artists will collaborate with the app developer! This was a 7 star experience!!"
VR has become a new avenue for artists to add to their repertoire, giving more opportunities to connect with fans and deliver unique experiences. "We're excited to reach more fans through the Meta Quest App, and plan to launch more concerts in 2023 through our JV partnership with K-pop giant SM Entertainment," adds Lee.
Find AmazeVR and Megan Thee Stallion in the Meta Quest App Lab by searching AmazeVR Megan Thee Stallion VR Concert. For more information, visit amazevr.com.
© 2022, Seth "Digital Crates" Barmash. All rights reserved.