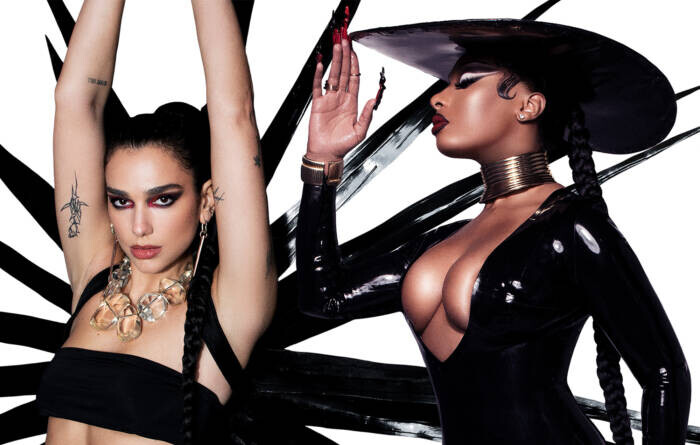 Check out Dua Lipa's new podcast from iHeartRadio, Dua Lipa: At Your Service, with special guest Megan Thee Stallion in support of their new single "The Sweetest Pie" released today.
The duo discuss collaborating for the first time, as well as the importance of dismantling the misogyny still rampant in the music industry by supporting and making space for other women. Megan also speaks about using her platform to promote the protection of Black women.
[4:45] Dua and Megan reminisce on how the "The Sweetest Pie" came to be
"I wrote so many versions of this song. Finally, when I heard your voice on it I was like, 'No – I need to rewrite all of this. It's not good enough [for you]," Megan recalls.
[19:00] The duo discuss the challenges women face in the male-dominated music industry
"When you think about women doing anything in general you think 'catty'… That's what we've been taught for so long. When you watch TV, you see a woman in competition with another. I think boys play a big part of that in the industry, too. You have your people that want to cheer you on but to uplift, you don't have to put down someone else." Megan explains. "I think there's space for everyone," Dua adds.
Speaking about live-performances, Megan explains, "It is a crazy double standard. Sometimes I just have to take it as, 'everyone knows that we are superior so they expect us to arrive as the superior beings that we are.' We get critiqued so heavily because everyone knows women are the s**t, so everyone is looking for us to be the s**t all the time."
When discussing the publics mixed opinion of WAP, Megan says, "If men feel like [sexual] pleasure is not all about them, then it's absurd… Pleasure does not go one-way so if you get offended by a woman talking about how she likes to be pleased, then I think you need to take a step back and re-evaluate what you're into." "They should take note and be like 'Megan's schooling us at the moment.'" Dua adds. "I'm teaching you what you need to do!" Megan jokes
[28:50] Megan on her role in the 'Protect Black Women' movement
"Black women are so underappreciated and so written off as a group of women who are super strong. You see us go through adversity, you see us go through any trial and tribulation, you see us as people who can go through these problems and we come out shining like we always do. Rarely do people check on us to treat us like we're soft… I realized that because people thought I was so strong, they didn't treat me like I was a fragile being, like they would to other women…. Being a Black woman is so much responsibility and you always have to be poise about it."
© 2022, Seth Barmash. All rights reserved.