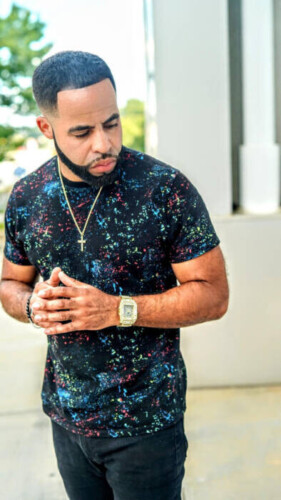 B-Wise, formally known as Brandon Wise, is finishing up his third studio album, Triune, set to release on February 4th, 2022. The project follows the gospel rapper's latest single, "He Reigns," which he released back in May. This thirty-eight-year-old North Carolina native has been making music since he was thirteen years old and he isn't stopping any time soon.
Wise started making gospel rap when he was thirteen years old, inspired by some of his favorite artists, like Kanye West, Kirk Franklin, Gospel Gangstaz, and Cross Movement, as well as his most listened to genres, such as Christian Contemporary Music, Afrobeats, Worship, and Gospel.
The artist has collaborated with several artists and producers through the years. His biggest feature was with Grammy Nominated Gospel Artist, Canton Jones, on the track "Trinity (Remix). Wise has an upcoming single titled "Drip Drop," featuring Currentt, that is set to release sometime soon. Wise hopes to continue working with other artists within the Gospel/Christian Music space. Bizzle, Lecrae, Da'T.R.U.T.H, Hillsong, Kirk Franklin, and Limoblaze are just a few of the notable artists that B-Wise would love to collaborate with one day.
As twenty-twenty-two rolls in, B-Wise will be working hard to finish Triune as well as manage his fragrance line business, Wise Fragrances. You can continue to expect new music and great things from this artist!
To learn more about B-Wise, follow @bwiseoffical on Instagram and subscribe to his YouTube Channel, https://www.youtube.com/bwisevevo.
© 2022, Staff. All rights reserved.