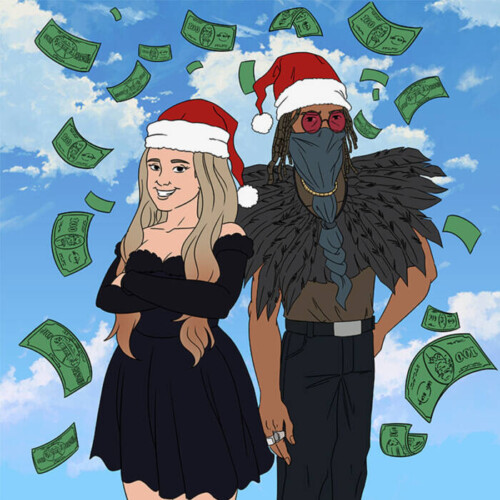 Whoever said that money couldn't buy happiness is not on the same page as Brianna Shelko.
Brianna will be premiering the single Santa Can You Make It Rain with Azazus on all platforms Tuesday November 15 to celebrate this holiday season, and to let Santa know what she wants for Christmas. The dollar bills. After all, who wouldn't want "Some extra ice," as Brianna puts it?
The song features a get-up-and-dance pop vibe, suitable for the festive season. Throughout the track, Brianna sings about someone who's been "naughty, not so nice", and asking for wealth as a present from Santa. Rather than toys or the items people find or expect under their Christmas trees.
Santa Can You Make It Rain also expertly combines holiday elements in its lyricism with beats from modern pop, making it a worthy holiday anthem for fans. Brianna's powerful vocal runs hold their own in a range that singers such as Mariah Carey, Ariana Grande and others normally dominate. Her chorus gives a jingle that invites listeners to dance, sing along, or both.
If that's not enough, Santa Can You Make It Rain also features a rap verse from Azazus, adding diversity and swagger to the mix. Although short, his part in the song effectively merges hip-hop elements with Christmas that music enthusiasts will thoroughly enjoy.
Both artists met through a nearly accomplished collaboration with Netflix's Rhythm + Flow 3rd place winner, Londynn B. Though the joint project with Londynn was not to be, Brianna and Azazus grew a friendship that led to this holiday banger.
So if you're still unsure what to ask Santa this Christmas, take a page from Brianna and Azazus's books and ask him to make it rain, IYKWIM.
Presave – https://distrokid.com/hyperfollow/brianna3/santa-can-you-make-it-rain-feat-azazus
Brianna Shelko – https://www.instagram.com/brianna_shelko/, https://www.tiktok.com/@briannashelko
Azazus – https://www.instagram.com/iamazazus, https://www.tiktok.com/@iamazazus
© 2022, Logan. All rights reserved.