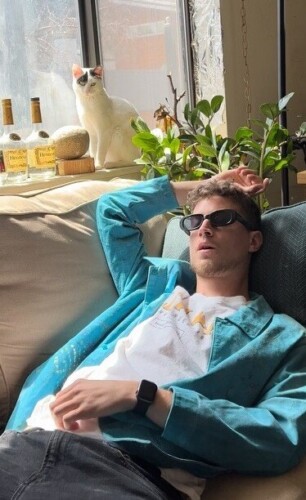 Music is the glue that holds the world together. The art that has a place in everyone's heart, music is universal. Good music has the power to nourish the soul and add beauty to life. And as makers of this elixir, musicians are prized gems of the human race.
Just like people, songs have different colors and cultures. Everyone might resonate with different genres. But good music transcends these boundaries. As a hitmaker It's Midnight can attest, that good music speaks straight to the soul. And it does so because it carries the soul of the artist within the melody.
It's Midnight''s journey with music is a very personal one. It's Midnight' had no idea he wanted to be a musician until he was listening to Lil skies' new album "Life of a Dark Rose".
It's Midnight loved listening to songs by the greats artists like Lil Skies and other rappers often found solace in their tunes and imagined he can do it too.  As time went by, It's Midnight began writing his own music, inspired by the music of his childhood and his real-life experiences. Over the years, It's Midnight honed his skills, collaborating with other musicians, and listening to more songs to widen his horizons. Thus, was born 'That's Home'', which was released and took the world by storm. The honesty in It's Midnight's songwriting struck a chord with people who made the song their own and took both the song and the artist to new heights.
So, what is his creative process, according to It's Midnight? "Sometimes I do it the generic way where I listen to beat packs and get inspiration from the beats, I would say this is normally how it is, however sometimes a random hook or verse or rhythm pops in my head and I have to get it out as soon as possible to contain the energy and excitement. Sometimes I imagine a certain beat and try to look for something that matches it. It's really all over the place. Something I have learned about myself is that I can't rush or force a creative idea. It has to come to me. Sometimes I can sit in my studio for multiple hours and nothing will come to me, while other days I make 2 full songs in 30 minutes. Create when you feel inspired and don't force yourself if it's not working that day."
And indeed, there is truth to It's Midnight's words. And with musicians like him on the stage, we're sure we'll always have melodies that touch us eternally to look forward to.
Follow him on Instagram.
Also, check out his music on Spotify:
© 2022, Astro Avi. All rights reserved.