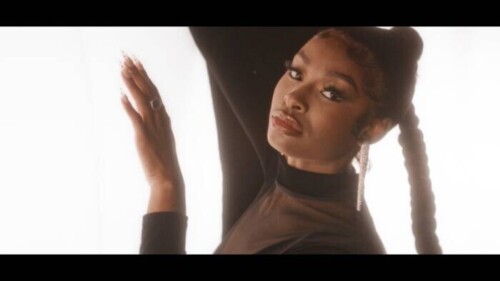 Throughout her life, Coco Jones displays her versatility as a multifaceted talent. As a successful star of the newly released show Bel-Air, she continued to nurture her career as a recording artist with the release of her brand-new single "Caliber" and a host of covers and performance appearances along the way. Coco's upcoming debut EP, set for release later this year, features "Caliber" as the first advance track. She shows off some choreography while simultaneously sliding over a smooth production by Eric Hudson and Bongo in the recently released accompanying visualizer:
It's been a busy year for Coco Jones, thanks to her performance as Hilary Banks, Will Smith's blood cousin in Peacock's new reimagining of the iconic "Fresh Prince of Bel-Air." Jones spoke to GQ about how it feels to step into such a prestigious role, and what it means for her future:
"There is something I see in Hilary as well, because Hilary must deal with a lot of opportunities that will take away some of who she is, as well as what she believes," Coco recalled. It feels like my journey as a child actor to a young adult to an adult has resulted in many opportunities that have looked good, but everything that glitters isn't gold. Hilary and I have a similar attitude. Who will not tell us we aren't good enough? As someone who has grown up in this industry, I've learned that who I am, what I do, and what I bring are more than enough to make the right move.
© 2022, Derek Charles. All rights reserved.