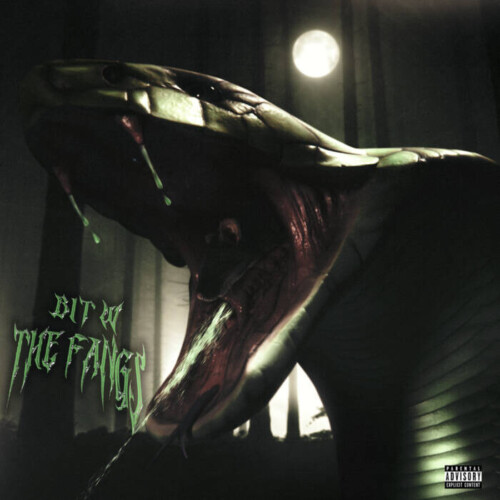 Earning the respect of the trap scene with his sly wordplay and sneering delivery, CEO Trayle is Atlanta's most fearsome rap villain. Like all villains, monsters, and things of ill-repute, Trayle thrives during Spooky Season. Continuing an annual tradition that has inspired some of his best work, CEO Trayle announces Happy Halloween 5, his next mixtape, arriving on its namesake day. The upcoming mixtape features some of Trayle's most expansive production to date, with contributions from Dun Deal, OG Parker, Go Grizzly, Trauma Tone, and Trayle's frequent collaborator Stribb, among many others. Trayle keeps the Halloween theme going on his songs, using his sly wit to present himself as a nightmarish figure to haters and opps across the globe. Happy Halloween 5 arrives on October 31st via Do What You Love, LLC / 10K Projects.
Along with the announcement of the mixtape, CEO Trayle shares "Bit With The Fangs," a collaboration with Gunna and Nechie. "Bit With The Fangs" is the blessing that Trayle received from the YSL superstar, following last year's hit "OK Cool" (Remix), which racked up tens of millions of streams. Produced by Stribb, who delivers a hazy atmosphere with ominous organ and hard-hitting percussion, the song finds Trayle unfurling elegant triplet flows as he dismisses triflers and haters with a curled smile. Gunna imitates Trayle's stop-start motion before launching into his hypnotic melodies. Nechie comes through with his high-pitched snarl, while Trayle completes the three-man weave with panache.
"Bit With The Fangs" arrives weeks after Vier, a four-track EP released in July alongside a Q&A with The FADER. The title of the EP translates into the number four in German, a number with mythical and historical significance in Trayle's life–beyond being the source for his explosive nickname C4. Nine years ago, on July 4th, Trayle suffered seven gunshot wounds as he successfully fought off an attempted home invasion. Trayle survived, but he suffered emotional scars that he still processes every day. The rapper explored his trauma and expressed gratitude for the little things on his recent single "July The Fourth," the EP's closing track. Vier followed in the wake of Trayle's 8-song mixtape The Collection, home to highlights like "Of Course," the tape's closing track.
CEO Trayle is following in the footsteps of his hero Gucci Mane, crafting street raps that are at once down-and-dirty and refined. The 28-year-old artist always stays true to his muse regardless of what's fashionable, creating music that went against the grain in his home city of Atlanta during the heyday of triplet-driven melodic trap. His music found an audience in Chicago, still home to his largest base of listeners, and among publications like Pitchfork, Audiomack, and many more, for his gritty bars and sinister steez. Trayle's trajectory skyrocketed after he released "Ok Cool," a viral hit that generated over 60 million streams and earned a remix from Gunna. "Ok Cool" landed on Happy Halloween C4, a 16-track opus with appearances from Babyface Ray and Doe Boy.
With much more music on the way and much further to rise, CEO Trayle is primed to take over the rap game.
© 2022, Seth "Digital Crates" Barmash. All rights reserved.