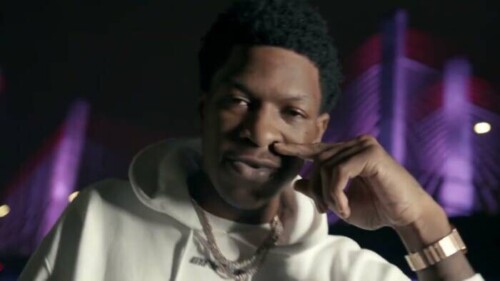 CEO Trayle specializes in sly slick talk, packing his bars with wit and wry menace. Proving that he can master any style, Trayle shares "DrillC4," a new banger. Populated with ghostly vocal samples and militant snares, "DrillC4" finds the critically acclaimed rapper tiptoeing atop the fast-moving percussion with grace, keeping a deliberate pace as he doles out bits of street wisdom. Though he's trying his hand at a sound popular in Chicago, NY, and the UK, the focus remains firmly on Trayle's hometown of Atlanta: "Free YSL, still waitin' on a verdict/Long live Keed, that's the prince, yeah you heard it/Chop on the top on that, its verdict/Straight out the mud, my Amiri's dirty." The song arrives with a Ring Ring Visuals-directed video, which finds Trayle performing the song in NYC, as he stunts in the rain with his Caddy down under the Kosciuszko Bridge (which divides Brooklyn and Queens).
"DrillC4" is the latest missive from Vier, CEO Trayle's upcoming EP. The title of the EP translates into the number four in German, a number with mythical and historical significance in Trayle's life–beyond being the source for his explosive nickname C4. Nine years ago, on July 4th, Trayle suffered seven gunshot wounds as he successfully fought off an attempted home invasion. Trayle survived, but he suffered emotional scars that he still processes every day. Trayle unpacked his trauma on the recent single "July The Fourth," which closes off the forthcoming EP. Featuring a guest appearance from Enchanting, Vier EP hits the internet this Friday, July 29th via Do What You Love, LLC / 10K Projects.
Vier continues a busy year for the CEO, highlighted by his recent project The Collection. Spanning eight tracks, the project reconciles Trayle's pugilistic past (represented in songs like "Mr. Door Kicker") and his luxurious present ( "Buy A Boat," "Fendi'd Up"). Trayle recently took a trip to New York in the video for  "Of Course," the tape's closing track.
Freshly signed to 10k Projects, CEO Trayle is following in the footsteps of his hero Gucci Mane, crafting street raps that are at once down-and-dirty and refined. The 27-year-old artist always stays true to his muse regardless of what's fashionable, creating music that went against the grain in his home city of Atlanta during the heyday of the triplet-driven melodic trap. His music found an audience in Chicago, still home to his largest base of listeners. Trayle's trajectory skyrocketed after he released "Ok Cool," a viral hit that generated over 60 million streams and earned a remix from Gunna. "Ok Cool" landed on Happy Halloween C4, a 16-track opus with appearances from Babyface Ray and Doe Boy.
With Vier EP on the way and much further to rising, CEO Trayle is primed to take over the rap game.
© 2022, Seth Barmash. All rights reserved.