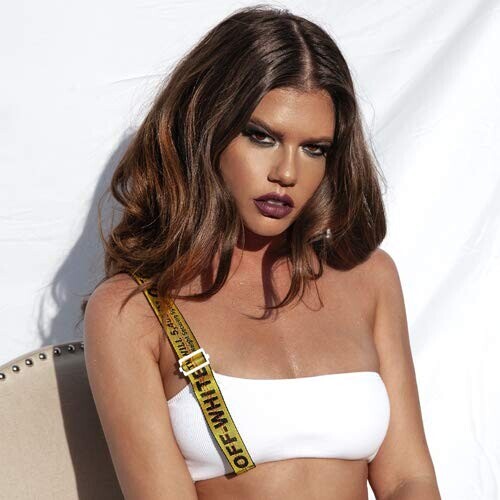 Chanel West Coast releases her new "Versace Diaries" EP, which includes a two-part collaboration of songs ("Versaci Mami" and "Versace Robe") alongside Minus Gravity aka Apollo Liberace's, Justin Love, DJ Kittie, Yowda and Juss Swoop.
The compilation came together while Chanel was traveling with a group of ultra-talented, likeminded artists and is an ode to the culture zeitgeist around Versace's influence on music, fashion and lifestyle.
"Versace Robe" is inspired by all the unique flair surrounding the vibrant fashion and love for the iconic World of Versace. The song is written and released by Chanel West Coast featuring Minus Gravity and Justin Love. The song is produced by KE on the Track. Minus Gravity aka Apollo Liberace's fans across the world have already tuned in to hear his unique combination of energetic rock, melodic R&B, and eloquent Hip Hop as Apollo continues to push the boundaries of musical artistry. Justin Love is a singer, songwriter, and producer whose work has been praised by the likes of notable musicians & producers such as H.E.R, Alicia Keys, Jermaine Dupri and more. Co-writer of the 2016 smash hit "Focus" by H.E.R, Justin earned a Grammy nomination.
"Versace Mami" is also inspired by all the unique flair surrounding the vibrant fashion surrounding the World of Versace. The song was written in 2021 prior to Chanel becoming pregnant. Now that it is set to release on October 14th, the song is perfectly fitting for the fashion-forward, mom-to-be! The song features and is written by artists, DJ Kittie featuring Chanel West Coast, Minus Gravity and Yowda. The single is produced by DJ Kittie and Jus Swoop. DJ Kittie is one of the most talented and influential female DJs and music producers in the game right now. DJ Kittie is now a resident DJ at some of Las Vegas' hottest clubs such as Tao, Tao Beach, Omnia, Jewel, Ghost Bar, Drai's, Sapphire, Liquid, Blue martini, and many more. She became an official tour DJ for Chanel West Coast in 2015 and alongside Chanel opened for artists such as Lil Wayne, Tyga, and Cardi B.
Over her career, Chanel has released a steady line up of various single and mixtape releases over the years which have featured star-studded collaborations with heavyweights such as Snoop Dogg, French Montana, Ty Dolla $ign, Robin Thicke, YG and many more. Her continued hustle has catapulted her to musical success, opening for artists such as Cardi B, Rick Ross, Lil Wayne, Tyga, MGK, and Waka Flocka, among others for shows and tours across the nation.
"Our group of friends and collaborators were vacationing in Miami and Las Vegas, while wearing Versace, which laid the foundation for the inspiration of the tracks," Chanel said. "We all got in the studio together and said let's just make some magic! It's fun, boisterous and up-tempo."
The multi-faceted artist has served as co-host for MTV's Ridiculousness while staying focused on her number one passion: recording and dropping music. In recent years, Chanel has performed at big music festivals such as Rolling Loud, HighLife festival, SXSW, and several other music festivals across the country.
Her most recent album "America's Sweetheart" which features artists such as Too Short, Dreezy, Salma Slims, and more, underscored the years of hard work Chanel has contributed to building her career as an artist, which first started as Lil' Wayne's protégé.
© 2022, Seth "Digital Crates" Barmash. All rights reserved.