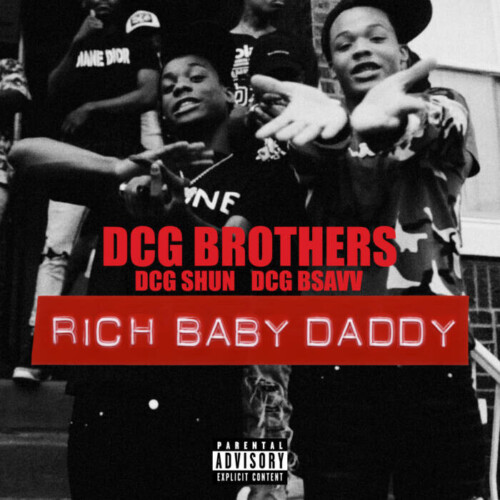 Coming straight out of Chicago, the DCG Brothers inject their hushed style of drill with an absurd sense of humor that sets them apart. The magnetic duo, comprised of DCG Shun & DCG Bsavv, celebrate their brotherhood and fatherhood in the hilarious new video single, "Rich Baby Daddy." On the track, Shun and Bsavv outline the requirements to earn that titular claim, such as paying off bills, starting lash companies, and making sure your kids don't have to split their Happy Meals.
The video for "Rich Baby Daddy" finds the duo flashing the fruits of their labor, rocking Chrome Hearts and Celine outfits as they boast their ability to spoil any baby mama worthy of the cause. Yet, the pair remain aware that as their evergreen bankroll grows, it draws more leeches out of the woodwork. Nevertheless, they remain generous with what they have because, as Shun knows well, the apple doesn't fall far from the tree: "My son bad as f***/He gon' look up to his daddy."
Earlier this year, the DCG Brothers shared Jungle Life, an accomplished, 14-track mixtape that established the duo as one of the most exciting acts in their hometown. Home to the hit single "Stomp," featuring Chicago legend G Herbo (1.8 million YouTube views), Jungle Life takes a raw, unfiltered look at the group's home neighborhood, while showcasing the percolating chemistry that helped them escape their circumstances. "Growing up in a real jungle around savage and seeing crazy things, basically meeting different types of people and associating them with animals," say the DCG BROTHERS. "RATS, SNAKES, GORILLAS, & EVERYDAY IT'S A SURVIVAL IN THE JUNGLE." Featuring additional appearances from BIG30, B-Lovee, and frequent collaborator Msavv, Jungle Life is available everywhere via No More Heroes/Atlantic Records.
Though DCG Shun and DCG BSavv may seem like newcomers in the rap game, they've been perfecting their craft for years. Bsavv started rapping when he was 8-years-old–around the time of Chicago's world-changing drill boom–inspiring his brother Shun to learn to spit and establishing a symbiotic artistic relationship that has lasted over a decade. Racking up YouTube videos by the million before Shun could legally drive, the duo became known around Chicago for their irrepressible personalities, drawing the attention of prolific music video collective No More Heroes, who paired their boisterous bars with eye-popping visuals to match. The duo earned acclaim from national media, including Pitchfork, with the hilarious "Mmhmm" ft. Msavv (3.4 million views), which deposited the three emcees on a golf course for eighteen holes of mayhem. DCG Brothers kept the momentum going in 2021 with "House Party," produced by Internet Money, generating over 2.3 million views.
With much more music, and plenty more creative videos, on deck, and with the backing of No More Heroes and Atlantic Records, there's no limit to how high DCG BROTHERS can rise.
© 2022, Seth "Digital Crates" Barmash. All rights reserved.