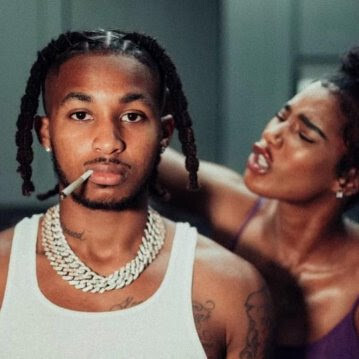 Pontiac, MI rapper DDG releases his eagerly awaited new album, It's Not Me It's You. An unfiltered rumination on relationship and newfound success, the star-studded project is the breakout artist's most introspective project to-date. Get the 12-track album at all DSPs HERE via Epic Records
Album opener and new single "9 Lives" sets the tone for the album with its melancholy piano and atmospheric beats. Featuring fellow rap stars Polo G and NLE Choppa, the track finds DDG reflecting on his journey to stardom. His metamorphosis into a Platinum-selling hitmaker is also explored in the gripping Michael Daniel-directed video, premiering at noon today at https://DDG.lnk.to/9LivesOfficial It showcases DDG's life story, giving an intimate look into his family life and struggles that manifest into an inspiring "rags to riches" story, with NLE Choppa and Polo G sharing similar personal stories. 
While DDG's first-ever project Take Me Serious was a plea for acceptance as a serious music artist, and his 2021 collaborative mixtape Die 4 Respect with producer OG Parker was a reminder that DDG's mainstream prominence was imminent, the aptly titled It's Not Me It's You sees DDG leveling up, getting braggadocios and asking those that have doubted him to take an introspective look inside if they haven't jumped aboard the DDG train yet.
As always, DDG infuses stories of hard knocks with wisdom, charm and a cacophony of different influences including blues, R&B and the spitfire rap that he's made his calling card. It's easy to see why the rising star is approaching 1 billion streams across platforms: It's Not Me It's You is an album with a firm grasp of the current hip-hop landscape, boldly shaking up the establishment with sheer bravado and boundless vulnerability.
It's Not Me It's You includes the recently shared single "If I Want You," a steel guitar-driven atmospheric anthem that lit the internet on fire with the release of its sultry video co-starring DDG's real-life girlfriend Halle Bailey last month. Other standouts on the album include otherworldly banger "Elon Musk" featuring Gunna, which has amassed over 44 million streams so far. The viral hit showcases his naturally evolved artistry, with a combination of masterful lyricism and magnetic melodies. Not only that, DDG cemented himself as an innovator by becoming the "first rapper to go to space" for the "Elon Musk" music video, training in Zero G in official NASA facilities. Kicking off the summer, DDG shared "Storyteller," a deeply infectious track boasting an instantly catchy, insightful chorus. "Hot girls have cold hearts, cold hearts hide deep scars like a motherf***er," the 24-year-old spits wryly. "Deep scars make better stories, but I ain't no storyteller."   
This summer, DDG lit up the international festival circuit with high-energy performances at Wireless Festival in the UK, WooHah in The Netherlands, Rolling Loud Portugal and Toronto, and Splash in Germany, and a run of headlining shows in the United States. Stay tuned for more live performances to come.  
After releasing a series of early independent singles, he generated serious buzz with his 2019 debut, Valedictorian, which boasted the gold-certified banger "ARGUMENTS." DDG reached the stratosphere, however, in 2020 with the inescapable "Moonwalking In Calabasas (Remix)" featuring Blueface. It marked his first entry on the Billboard Hot 100 and went platinum. Following his 2021 project Die 4 Respect with OG Parker, DDG was named one of XXL's 2021 Freshman Class cover stars, cementing his status and influence in the culture of hip hop.
Now with It's Not Me It's You, the rapper is ready to fully embrace his superstar trajectory.
 Follow DDG:
Twitter | Instagram | YouTube | TikTok
© 2022, Seth "Digital Crates" Barmash. All rights reserved.