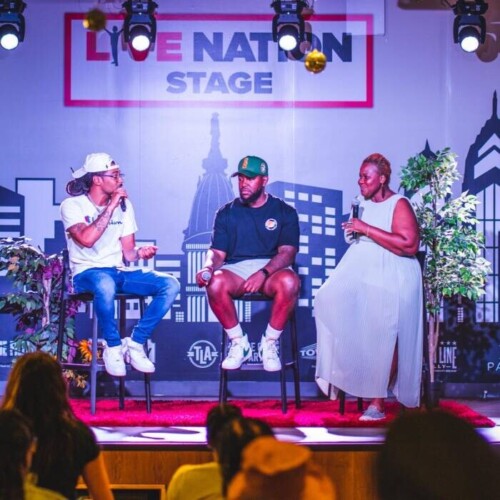 DJ JSO an American born DJ, radio & media personality and now assistant programming director of Hit Nation Empire and IHeartRadio station, is helping dozens of creatives break into the radio & media industry. Jahleel Muhammad publicaly known by DJ JSO recently moderated at the " Podcast Symposium" Open House presented by RecPhilly, a day of insightful deep dive discussions with panelist to assist creatives with growing or creating their new projects. DJ JSO shared his experience with starting his podcast as a radio show on 106.5 FM to now being a duel IHeartRadio show airing on an IHeartRadio live station 3 nights a week and IHeartRadio podcast available 24/7 in the podcast section. DJ JSO has also opened up submissions for new podcasters or YouTubers interested in syndication to the IHeartRadio live station. Once again putting himself in the frontline of the music industry to help new and developing creatives learn and grow. DJ JSO is also a music producer and audio engineer and recently released his first single, a dj mash up or "party mix" featuring vocals by Young Dolph mixed with heavy bass and high tempo beat matching the popular Philadelphia club music sound or recently acclaimed "shake dhat" music scene led by Philadelphia's own DJ Crazy. DJ JSO has been a pivotal individual when it comes to breaking into the industry and teaming up with Coalition DJs (Philadelphia Chapter) has put him in the forefront to be first to hear hit records and be a key element in sharing those records with the world helping them become known hits. Coalition DJs Philadelphia host private listening sessions referred to as " New Music Wednesdays" to hear artists music early in release phase. If music is up to par and gets a yes for all DJs it can then be a coalition "priority record" that will be shared and played by DJs in the coalition network. Recent coalition priority records included, Jim Jones ft. Migos "We Set The Trends", DJ Crazzy ft. Zahsosaa & Philly Goat Dice "Shake Dhat", CMC Guapo "Paradise", Bizkitbnb ft. Eric Bellinger "Casamigos" and more. Collectively, DJ JSO has built a powerhouse for music promotion and media coverage and says he looks forward to helping hundreds if not thousands or musicians and creatives reach their entertainment career goals. As well as, work with many more well known brands like Recphilly, Music Breakr, Hit Nation Empire and Coalition DJs to reach greater heights in his career. DJ JSO can be found on Instagram via @Officialdjjso and readers can find his show THE MIC XM and other amenities available via official website THEMIC.LIVE
Links:
https://open.spotify.com/artist/0lng3GuX6wlIyqYtmrHxka?si=6cWi7oWfS3yfggG86HBhhg
https://youtube.com/channel/UC2hLobcDU5S4FyowqwOSbqA
https://www.iheart.com/podcast/269-the-mic-xm-95083704?cmp=ios_share&sc=ios_social_share&pr=false&autoplay=true
© 2022, Tedfuel. All rights reserved.