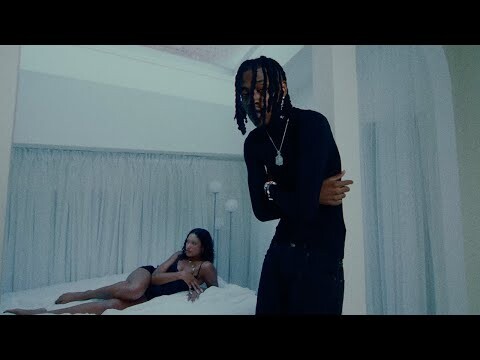 Filtering raw emotion through his expressive vocal tenor, Dro Kenji's rich melodies have propelled him on an unwavering path to stardom. A candid illustration of the ills that plague him, Kenji shares a new clip for "HOW U FEEL?" the latest visual thriller from his recent project ANYWHERE BUT HERE. The track's macabre production, courtesy of Census, Taz Taylor, CD.mp3, and DxnnyFxntom, fuses delicate piano with sharp percussion, evoking the defenseless shiver of a cold breeze without a warm blanket, as Kenji makes his plea: "Tell me how you feel 'cause I've been under a spell/Tell me how you feel 'bout all the pain you've dealt."
Directed by Keaton Jones of Dorm Room Entertainment, the video for "HOW U FEEL?" animates the chilling exposure emanating throughout the track. The clip jumps between cuts of a restless Kenji pacing around the snow-white interior of his home with the thin protection of a black turtleneck, and a fatigued Kenji moving through a seemingly infinite hallway bathed in lavender hues, as its cinder-block walls create a sense of claustrophobic pressure. Even when he stops for a smoke in the purple-lit corridor, or lounges on the spotless white sheets of his comfortable bed, his heartbreak affords him no respite.
Home to the buzzing Mike Dimes-featured track "STEP BACK," and featuring appearances from fellow rising stars like Midwxst, Ka$hdami, and NoCap, the 13-track ANYWHERE BUT HERE captures the breadth of Kenji's ever-improving artistry. On "SO WHAT" ft. DC The Don, Kenji injects his melodies with monstrous energy, while "CIGAR" captures a fatigued ferocity as Kenji howls his heartache at the moon. When presented with cinematic instrumentals from Internet Money producers like Census and his MiraTouch label head Nick Mira, Kenji rises to the occasion, belting lovelorn relationship tales and diabolical flexes through his full-bodied tenor.
Just 20-years-old, Dro Kenji has amassed a sizable discography. Determined to hustle his way to new heights, the young rapper is improving with every release–ANYWHERE BUT HERE arrived as Kenji's third of 2022, following WITH OR WITHOUT YOU and the recent LOST IN HERE EP, which arrived on DSPs earlier this month. The South Carolina native is following up a breakout 2021, during which he released two albums and the hit single "KILL CUPID" ft. $NOT (23+ million Spotify streams).
Sit back and stay tuned as Dro Kenji continues his ascent to the highest echelons of the rap game and prepares for his upcoming nationwide "ANYWHERE BUT HERE Tour."
Buy tickets for the "ANYWHERE BUT HERE Tour": https://shopdrokenji.com/
© 2022, Seth "Digital Crates" Barmash. All rights reserved.