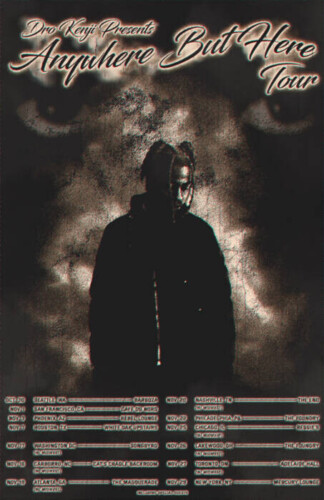 Dro Kenji exudes raw emotion through his rich vocal tenor, carrying a melody like few others in the rap game today. Today, the 20-year-old artist announces the "ANYWHERE BUT HERE Tour," a 13-date tour embarking this fall. Kenji will co-headline seven of the tour's dates with fellow rising star Midwxst. Kicking off in Seattle on October 30th, the tour makes stops in Atlanta (11/19), Chicago (11/25), and Toronto (11/27) before finishing in New York City on November 29th. Tickets for "ANYWHERE BUT HERE Tour" are available now.
Along with the tour announcement, Kenji shares the video for "OH WOW," the standout opening song from his recent project ANYWHERE BUT HERE. Produced by Earl On The Beat, Census , Paryo & Taz Taylor, "OH WOW" is a slinky, yet expansive ode by Kenji to his vices, which range from mind-altering substances to earth-shattering lust: "You've been stuck inside my head/Yes, I'm a fiend, wow-wow/Sometimes I just wake up from my dreams and scream out loud/Cause I need my loud/And I need my drugs/Baby, you're my drug." In the video, Kenji takes a trip to NYC, where he dances on rooftops in Brooklyn and ruminates in a Downtown subway station. The new video follows up "SHALLOW," the latest in a line of many quality visuals from ANYWHERE BUT HERE.
Home to the buzzing Mike Dimes-featured track "STEP BACK," currently charting in Spotify's U.S. Viral 50, and featuring appearances from fellow rising stars like Midwxst, Ka$hdami, and NoCap, the 13-track ANYWHERE BUT HERE captures the breadth of Kenji's ever-improving artistry. On "SO WHAT" ft. DC The Don, Kenji injects his melodies with monstrous energy, while "CIGAR" captures a fatigued ferocity as Kenji howls his heartache at the moon. When presented with cinematic instrumentals from Internet Money producers like Census and his MiraTouch label head Nick Mira, Kenji rises to the occasion, belting lovelorn relationship tales and diabolical flexes through his full-bodied tenor. ANYWHERE BUT HERE is available everywhere via MiraTouch/Internet Money Records/10K Projects.
Sit back and stay tuned as Dro Kenji continues his ascent to the highest echelons of the rap game.
Buy tickets for the "ANYWHERE BUT HERE Tour": https://shopdrokenji.com/
© 2022, Seth "Digital Crates" Barmash. All rights reserved.