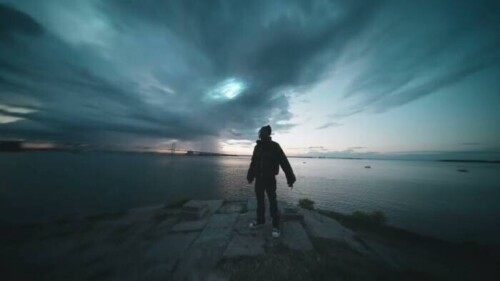 With ever-improving vocal chops, Dro Kenji is guided by an otherworldly vision for the atmosphere his music creates. Embarking on another voyage into that cerebral realm, the South Carolinian shares "SHALLOW," the latest visual thriller from his recent project ANYWHERE BUT HERE. Underlined by the ethereal urgency where piano and percussion intersect, "SHALLOW" presents Kenji as he struggles to reconcile that a glass half-empty is still enough to drown in: "I get high to calm the storm/Lie to me like I ain't live it/Tell me what you cry for/How the f*ck is this the limit?"
Shot by frequent collaborator Declan Kyle, a key architect of the Dro Kenji cinematic universe in his own right, "SHALLOW" takes a dive into the darker recesses of Kenji's psyche. As he trudges through the paint-peeled corridors of stonewall structures, glimmers of daylight cut through the darkness as clear openings to the outside world reveal themselves. Yet, Kenji remains in this eerie edifice as though he's bound himself to its gloom.
Home to the buzzing Mike Dimes-featured track "STEP BACK," currently charting in Spotify's U.S. Viral 50, and featuring appearances from fellow rising stars like Midwxst, Ka$hdami, and NoCap, the 13-track ANYWHERE BUT HERE captures the breadth of Kenji's ever-improving artistry. On "SO WHAT" ft. DC The Don, Kenji injects his melodies with monstrous energy, while "CIGAR" captures a fatigued ferocity as Kenji howls his heartache at the moon. When presented with cinematic instrumentals from Internet Money producers like Census and his MiraTouch label head Nick Mira, Kenji rises to the occasion, belting lovelorn relationship tales and diabolical flexes through his full-bodied tenor.
Just 20-years-old, Dro Kenji is racking up over 3 million streams per week on his sizable discography. Determined to hustle his way to new heights, the young rapper is improving with every release–ANYWHERE BUT HERE arrives as Kenji's third of 2022, following WITH OR WITHOUT YOU and the recent LOST IN HERE EP, which arrived on DSPs earlier this month. The South Carolina native is following up a breakout 2021, during which he released two albums and the hit single "KILL CUPID" ft. $NOT (21+ million Spotify streams). He was a standout performer at this year's SXSW, performing at multiple showcases including Rolling Loud x RapTV's extravaganza at Stubb's, and catching up with Variance Magazine.
Sit back and stay tuned as Dro Kenji continues his ascent to the highest echelons of the rap game.
© 2022, Seth "Digital Crates" Barmash. All rights reserved.