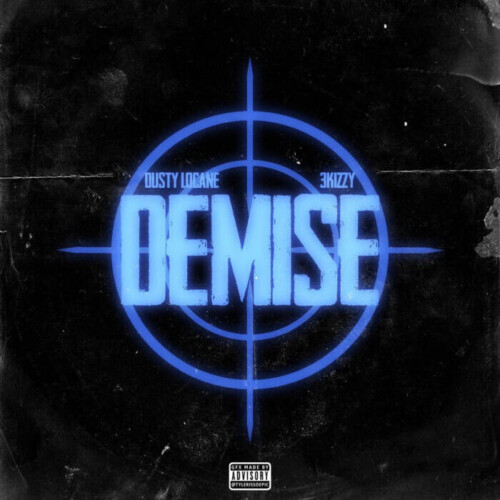 With his stone cold swagger and rumbling rasp, DUSTY LOCANE has plenty of bite to back up his bark. Connecting with 3Kizzy, a suvy from DUSTY's home neighborhood, the Canarsie capo keeps a steel surprise for anyone wishing to see his "DEMISE" in his new video single. Kicked off by 3Kizzy, who appeared on DUSTY's 2021 debut album, UNTAMED, the track is nothing short of a workout, with the duo daring listeners to keep up as they ring off their tough talk: "Know that we roll like the task force/Don't give a f*ck 'bout Illuminati, I got demons I ain't ask for."
Directed by MIDAS, the video for "DEMISE" feels like GTA meets Friday the 13th, as Kizzy and DUSTY fort up in an eerily neglected cabin in the woods. With its newspaper-lined walls draped in yellow tape, the structure evokes a different strain of horror. The house is haunted, but by its occupants, and any opp bold enough to come knocking is bound to get shook.
"DEMISE" arrives on the heels of "ROLLIN N CONTROLLIN Pt. 3 (BEEN ROLLIN)" (1.6 million views since its late July release), DUSTY's first single since his debut album, UNTAMED, which capped off a massive 2021 for the 23-year-old artist. In December, DUSTY joined the exclusive ranks of artists like Olivia Rodrigo, Coi Leray, Pooh Shiesty, and many more, as a member of the #RIAAClassOf2021 after receiving his first GOLD certification this year with his debut single, "ROLLIN N CONTROLLIN FREESTYLE," which racked up over 200 million combined streams. The EMPIRE artist struck gold again with "Rolando (Caught In The Rain)" (86 million Spotify streams) and  "ROLLIN N CONTROLLIN PT. 2 (PICTURE ME)," which generated well over 131k video creations on TikTok.
Stay tuned for much more music from the Canarsie native as summer rolls on.
© 2022, Seth Barmash. All rights reserved.