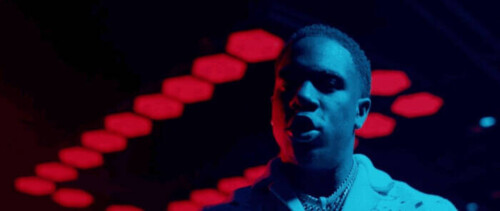 With a booming voice and more tricks in his playbook than Bill Belichick, Canarsie kingpin DUSTY LOCANE always stays a step ahead. Returning to finesse the feds once again, DUSTY shares the new video for "DEADLY," a dressed-down banger from his debut album, UNTAMED. The track finds DUSTY delivering laid-back bars over the instrumental's eerie, echoing vocables layered with drill percussion: "Safes get cracked, that's why I stay dangerous, baby/And I roll too turnt, so know you can't never play me."
The video for "DEADLY" serves as the sequel to his recent "ICED OUT" video, released earlier this month. After narrowly escaping arrest at the hands of the FBI with assistance from his bulletproof vest-wearing inside woman in "ICED OUT," the video opens with DUSTY plotting on his next move. After his FBI associate instructs his latest squeeze what to do, DUSTY takes her to a parking garage where a transaction takes place under FBI surveillance. As the feds decide to "take him down tonight," the double agent cautions DUSTY to "be on point." As he exits the garage under the FBI's pursuit, he hands off the duffle bag to his lady friend who escapes the scene while the feds close in, leaving them empty-handed.
Following recent clips like the booming "BIG WOOS" (1.9 million views), the Yung Bleu-featuring "WHAT YOU NEED" (1.9 million views), and the high-octane "REWIND" (2.2 million views), "DEADLY" is the latest video from UNTAMED, which capped off a massive 2021 for the 23-year-old artist. In December, DUSTY joined the exclusive ranks of artists like Olivia Rodrigo, Coi Leray, Pooh Shiesty, and many more, by being welcomed into the #RIAAClassOf2021 after receiving his first GOLD certification this year with his debut single, "ROLLIN N CONTROLLIN FREESTYLE," which racked up over 200 million combined streams. The EMPIRE artist struck gold again with "Rolando (Caught In The Rain)" (86 million Spotify streams) and  "ROLLIN N CONTROLLIN PT. 2 (PICTURE ME)," which generated well over 131k video creations on TikTok.
© 2022, Seth Barmash. All rights reserved.