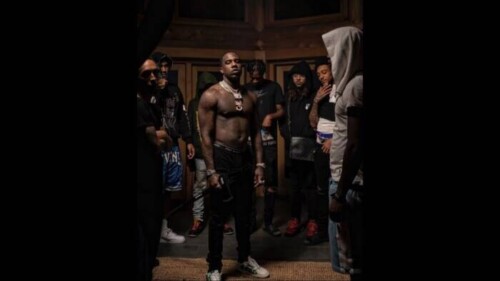 With the ice cold poise of a Cosa Nostra capo and a basso voice that resonates with the unforgiving frequency of the Brooklyn streets, DUSTY LOCANE fears none but the Almighty. Steeped in shades of sin and sacrament, DUSTY shares his video for "PRESSURE" from his recent ROLLIN N CONTROLLIN EP. The opening track of the EP, "PRESSURE" provides instant momentum as DUSTY braggodociously barks  over deep sliding surges of bass that sharpen with each bar: "Let me put you on/He had a trail and we picked 'em off/We was just trying to up the score/Gotta keep it discrete, that's the Art of War."
A Secret Society Motion Picture, the church-set video for "PRESSURE" calls to mind the opening line from Martin Scorcese's Mean Streets: "You don't make up for your sins in church. You do it in the streets." The clip potently conveys DUSTY's commitment to the hustle as a near-religious vocation. Juxtaposing images of stained glass martyrs and stone-faced executioners, "PRESSURE" creates an atmosphere more aligned with a Good Friday than any Easter Sunday. Yet as he walks through the valley of the shadow of death, DUSTY fears no evil, freely confessing his sins to the only one that can judge him.
Released last week, ROLLIN N CONTROLLIN EP features each installment of DUSTY's GOLD-certified debut single, "ROLLIN N CONTROLLIN FREESTYLE," including the recent "ROLLIN N CONTROLLIN Pt. 3 (BEEN ROLLIN)" and it's TikTok-viral predecessor, as well as his second-ever single, "Rolando (Caught In The Rain)" (92 million Spotify streams), which receives a brand new sequel on the project. The EP also delivered a pair of explosive new singles with the Kajun Waters-assisted "GAME," in addition to "PRESSURE." Whereas the rest of the project highlights the thunderous impact DUSTY's made in his young career, the new additions pave the way for a new era of DUSTY's dominance.
ROLLIN N CONTROLLIN arrives amidst a year of dominance for DUSTY in Brooklyn and beyond, most recently highlighted by the viral success of his collab with Lil Mabu on "No Snitching," which is in the Top 10 of Spotify's U.S. Viral 50 with over 10 million streams on the service. The new EP marks DUSTY's first project since his debut album, UNTAMED, which capped off a massive 2021 for the 23-year-old artist. In December, DUSTY joined the exclusive ranks of artists like Olivia Rodrigo, Coi Leray, Pooh Shiesty, and many more, as a member of the #RIAAClassOf2021 after receiving his first GOLD certification that year with "ROLLIN N CONTROLLIN FREESTYLE," which racked up over 200 million combined streams. Stay tuned for more from the Canarsie native as he continues to dominate his drill domain.
© 2022, Seth "Digital Crates" Barmash. All rights reserved.