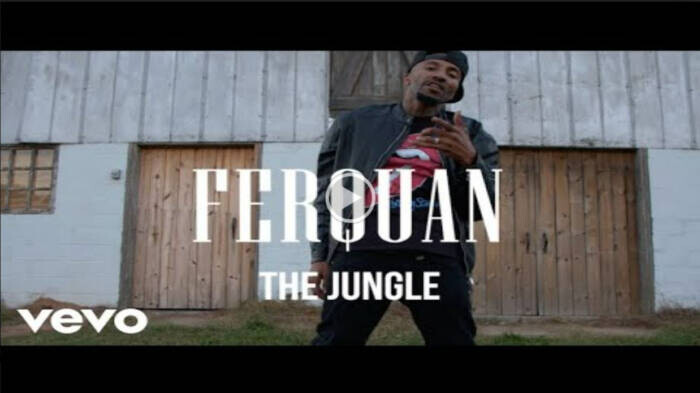 It's been a long time coming for Quan (nka FerQuan). Nearly eighteen years removed from when he first exploded onto the scene on Nas's hit "Just A Moment", the former Ill Will Records signee gears up for the King Quan Project, which will include two new EPs: Barz and Balladz. Today (2/24/2022), the extraordinary talented rapper, singer/songwriter, producer, and multi-instrumentalist shares the music video for the project's lead single "The Jungle". With powerful symbolism that ties the history of the United States to present day struggles, the video is a nod to the resilience of the country's people.
"I'm from 'the jungle', as we often would refer to the ghetto streets of  America. If you wanted anything, you had to fight ten times harder than the average American, and face five times the terror– from crime, to police brutality. You couldn't be anything other than a warrior to make it. And even though I'm an endangered species, I am a King. With the blood of the ancestors and God, we unstoppable" – FerQuan
Watch "The Jungle" on YouTube here.
"The Jungle" will be available on all major digital streaming platforms via Kingz Nation Ent/Soulapazm tonight at midnight.
Pre-order/save "The Jungle" here.
MORE ABOUT FERQUAN:
Best known for his 2005 hit with Nas, "Just A Moment," rapper, singer/songwriter, self-taught multi-instrumentalist and producer, Quan (aka FerQuan, fka Don FerQuan) has been championed by his hometown of Newport "Bad News," Virginia and Hip-Hop heads around the country. A reformed street hustler, Quan channels the traumatizing experiences of his former lifestyle into soulful Hip-Hop and R&B. From facing life imprisonment at age 16, parenthood, and the death of his son, Quan bares his heart and soul in his music, yielding rare grit and authenticity. Since his run with Nas in the early aughts, the former Ill Will Records signee and pioneering rapping singer has gone on to collaborate with Pusha T, Ace Hood, Asher Roth, Rapper Big Pooh (of Little Brother), Nottz, among others. Quan released his full-length debut album Walking Testimony in 2009, and after releasing several mixtapes followed up with his sophomore effort Point of No Return in 2017, all under his own imprint Kingz Nation Entertainment. His song "Amerikka's Pie" landed on season five of HBO's classic series The Wire, while his song "Warriorz Way" served as the theme music for Netflix's 2016 film The Hurt Business. Quan's music also served as the soundtrack for other films such as Ronnie Coleman: The King ("Flexin on Them") , Dorian Yates: the monster of mass ("Blood n Gutz"), and Generation Iron part 1, 2 ("All It Takes"),3, and part 4.
As of late, the self-proclaimed "Rap-Sing King" has been busy penning his memoir, modeling, acting, and preparing the 'King Quan Project', which includes two new EPs (Barz and Balladz). Quan was recently cast in a starring role in the regional stage production of Chaos in the House and plays the role of late rapper Tupac Shakur in the upcoming Andre Rison biopic Wide Open (based on the book of the same name). Quan's Kingz Nation imprint has also grown to incorporate real estate, which includes a multimedia facility in Atlanta, Georgia, fully equipped with a barbershop, salon, film and recording studio, marketing center, and hookah lounge.
© 2022, Seth "Digital Crates" Barmash. All rights reserved.