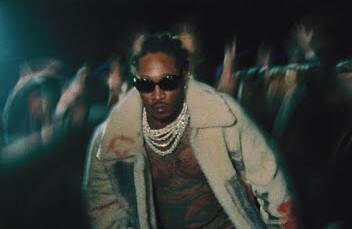 Future presents the blockbuster music video for "712PM" directed by none other than fellow game-changer Travis Scott.
The track "712PM" opens his chart-dominating blockbuster album, I NEVER LIKED YOU and instantly captivates from the jump. With cinematic scope and uncontainable energy, it pops off as the perfect visual companion to the song and reaffirms the brilliant minds of both Future and Travis Scott. This marks the second monumental collaboration between these two superstars this year. Travis served as creative director for Future's groundbreaking live performance of "Love You Better" from the Brooklyn Academy of Music on ABC's Jimmy Kimmel LIVE!
Future capped off a banner 2022 by picking up six nominations at the 2023 GRAMMY® Awards. The Atlanta juggernaut has notched multiple nods in coveted categories. He landed two nominations for "Best Rap Song" with both "WAIT FOR U "[ft. Drake & Tems] and "Pushin P" [ft. Young Thug] with Gunna as well as two nominations for "Best Melodic Rap Performance" for both "WAIT FOR U" and DJ Khaled's "Beautiful" [ft. SZA & Future]. Elsewhere, he competes for "Best Rap Album" with I NEVER LIKED YOU and received a nod in "Best Rap Performance" for the mega-hit "Pushin P." 
Recently, I NEVER LIKED YOU passed over 2.6 billion global cumulative streams to date Future also received recognition from the RIAA in observance of over 95 million units certified throughout his career thus far. This honor notably encompasses 9 albums and 68 separate songs as he inches towards 100 million units awarded (counting US sales and streams) and earns one of the highest totals in the history of the 65-year-old program according to the RIAA. Future's record-breaking album I NEVER LIKED YOU has reached Platinum status, while "WAIT FOR U" featuring Drake hit 3 x Platinum and "PUFFIN ON ZOOTIEZ" is now certified Platinum. 
I NEVER LIKED YOU crashed the charts as the biggest debut of the rapper's career, and continues to put up numbers, further securing his place in history with this magnum opus. Upon arrival, he emerged as the 5th artist in history to simultaneously debut at #1 on the Billboard Hot 100 and Billboard 200 with I NEVER LIKED YOU atop the Billboard 200 and "WAIT FOR U" at #1 on the Hot 100. On Spotify, he captured #1-10 on Top Songs Debut USA Chart in addition to landing a #1 US and Global Album Debut. Not to mention, he became the most-streamed artist on Spotify worldwide on April 29. I NEVER LIKED YOU landed at #1 on the Billboard 200 and moved a staggering 221,512 units first-week in the US alone. This notably marks Future his 8th #1 album on the Billboard 200 with the most seven-day sales of his illustrious career so far.
© 2022, Seth "Digital Crates" Barmash. All rights reserved.