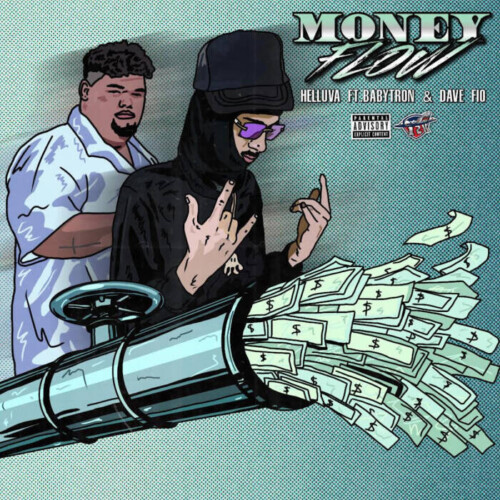 The Machine Works/Atlantic officially announces their signing of multi-platinum producer Helluva with the release of his new single "Money Flow" featuring BabyTron and Dave Fio – available now on all DSPs and streaming platforms. Helluva, responsible for soundtracking Detroit's rap renaissance as well as hits for Megan Thee Stallion ("B.I.T.C.H."), Big Sean ("Friday Night Cypher") and Kodak Black ("Versatile"), will unveil his forthcoming album Helluva Life in early 2023. The project will showcase the Motor City maestro's dynamic sound and feature an all-star lineup of Detroit's most prolific artists.
"I've been a huge fan and believer in BabyTron since I first started working with the ShittyBoyz, so we are always creating music together," says Helluva of their new collaboration. "I met Dave Fio last year through my manager Ced Louie and we have made a couple ideas together prior to this. For this particular record I was experimenting with both of their sounds. It was a little bit of all of us stepping outside our comfort zones and it turned out dope."
A native of Southwest Detroit, Helluva has produced the city's breakout stars, including Tee Grizzley, 42 Dugg, Sada Baby, Icewear Vezzo, and Peezy. Six years ago, he supplied a relatively unknown Grizzley with "First Day Out." Complete with a Meek Mill-assisted remix, the song marched to quadruple platinum and brought attention back to The D. The producer and rapper doubled up on that chemistry for 2017's "From The D To The A," a twice platinum collaboration with Yachty. Helluva cultivated sounds for the city's new class, applying his 20-plus years of experience to molding each rapper into a standout artist. "I like to listen to somebody and get to know them as a person," he shares. "That's how the music develops. I make the music match their personality and uniqueness." As Detroit occupied the spotlight, respected stars from other cities sought out Helluva beats. Jeezy and E-40, reached out, as did Meg, who collaborated with Helluva for two songs from her 2020 gold-certified Suga album, including the platinum lead single "B.I.T.C.H." Over the past two years, the mega-producer has crafted standout tracks for Big Sean, DJ Drama & Jeezy, EST Gee, Yo Gotti, Baby Money and more. Helluva's impressive catalog now includes over one billion streams and counting.
CONNECT WITH HELLUVA:
INSTAGRAM | YOUTUBE | SPOTIFY | SOUNDCLOUD
© 2022, Seth "Digital Crates" Barmash. All rights reserved.