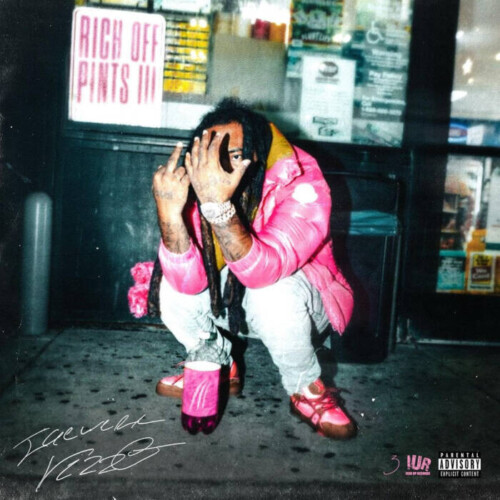 A shrewd slick-talker and an accomplished businessman, Icewear Vezzo is one of the key figures in the red hot Detroit rap scene. Exploring the mindset required to escape life on the streets, Vezzo shares Rich Off Pints 3, an accomplished new effort, and the concluding chapter of his successful mixtape series. Continuing the path set by 2021's Rich Off Pints and Rich Off Pints 2, which generated a combined 150 million streams across platforms, Rich Off Pints 3 is the product of a man who has been through hell in the pursuit of better days. Filled with sinister, piano-led production from the likes of Midwest maestros like FOREVERROLLIN, Rocaine, Cashout Beatz, and frequent collaborator Maxx Beats, plus contributions from Southern sound architects like June James, the new mixtape acts as a hustler's handbook, bursting at the seams with handy street lessons for aspiring executives, sneering missives that take aim at fakes. Heartfelt reflections on the hard work it takes to achieve a better life.
"The phrase Rich Off Pints isn't literal, it's about the mindset I was in around the time I started the series," says Icewear Vezzo. "I was like, 'f*ck the streets, I'm about to go all the way. I don't care how broke I gotta go, I wanna live right and do the right thing.' Ever since I started hustling, I dreamed of quitting the streets, and when I started thinking about Rich Off Pints, I developed the courage to do the work it takes to quit the streets completely."
Along with the album, Vezzo shares the video for project highlight "On My Own," a monument to Vezzo's self-reliance that chronicles lessons learned from his rise to stardom. The video for the Promo Beatz-produced track finds Vezzo rocking Palm Angels and sipping Sprite as he rolls through the streets of 6 Mile before heading to the recording studio and getting to work.
Rich Off Pints 3 highlights Vezzo's strength as a songwriter, bringing rock-solid concepts and crisp turns of phrases that leave a lasting impression. The tape is home to the recent single "The 6," with a video that dropped last week, plus new highlights that illustrate the contradictions of the hustler lifestyle. The sinister "Whatever" demonstrates the ice-cold mentality required to succeed in the rap game, while the anthem "Rich Off Pints" stresses the importance of staying true to oneself amidst rising fortunes.
"Richness isn't just a financial measurement, it's a mindset," says Vezzo. "You can have a lot of money and still be poor, mentally. You can be rich in loyalty in relationships, and in your outlook in life. You got guys who are rich who are assholes, who don't think about the energy they put out in the world. There are people who got money who think they can treat people however just because they have money. To me, they're poor. If that money goes away, they don't have anything. But if I go broke today, I still got a lot and I'll be good because I lead a good lifestyle and treat people well. I'll be fine because I'm successful mentally. My heart is successful."
He's already a Detroit legend, but Rich Off Pints 3 continues to further Vezzo's influence beyond The Mitten. The project hosts 2021 hits "Up The Sco" ft. Lil Durk (22 million views) and "Know The Difference" ft. Lil Baby, plus new hits that include fiery collaborations with Key Glock ("Whatever"), E-40 ("Had To"), and G Herbo ("Play For Keeps"). Featuring an additional appearance from fellow Detroit heavy hitter Baby Money, Rich Off Pints 3 is available everywhere via Iced Up Records.
Rich Off Pints 3 concludes a chapter in Vezzo's career but marks the start of an exciting new period of success for the budding superstar. Consistently racking up more than 4 million streams on his catalog per week, Vezzo's ambitions reach far beyond music, and even beyond the physical realm. The Iced Up Records CEO is a serial entrepreneur, starting his own businesses in fields as diverse as real estate, cannabis, and snacks (Vezzo's We Eatin! brand recently dropped Vezzo Hotz, new snacks in stores now), and jewelry maintenance. Vezzo is on track to be a pioneer in the burgeoning metaverse, with his own VezzoVerse launching soon and a forthcoming line of NFTs.
With limitless ambition and the work ethic to achieve his every desire, it's only a matter of time before Icewear Vezzo takes over the game.
© 2022, Seth "Digital Crates" Barmash. All rights reserved.