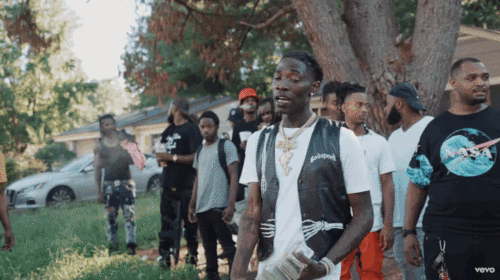 With an appealing Southern drawl and a ruthless hustler's mentality, Jay Fizzle is a mainstay in the red-hot Memphis rap scene. Staking his claim as a neighborhood hero as he rhymes his mission statement, Fizzle shares the video for "Hood Rich." Tiptoeing atop plaintive pianos and trunk-rattling percussion, Fizzle spends "Hood Rich" doling out hard-earned life lessons and flaunting the cash he worked so hard to earn: "BBK, dirty money stashed up in that duffel bag/B*tch I'm hood rich, I'm havin' sh*t you n****s dreamed to have." In the video, shot by LMB Filmz, Fizzle shines a spotlight on the colorful characters that populate his block, as he stunts in the trap with stacks and a chain paying tribute to his mentor Young Dolph. "Hood Rich" is the opening salvo from DonaFizzo, Fizzle's new project, following up the effortlessly funky clip for "50 Freaky B*tches" ft. 21 Lil Harold and the earlier clip for "Atmosphere."
Eager to establish his name far beyond the city that raised him, Fizzle refines his grind on his new mixtape. Fizzle perfects his flow, slithering into unexpected pockets on each stellar instrumental from heavy hitters like Bandplay, Ayoza, and Sosa 808. Unwilling to return to the poverty of his youth, Fizzle flexes as hard as he can, boasting about his money-getting prowess in increasingly inventive ways. Featuring appearances from his PRE family, including Key Glock, Big Moochie Grape, Joddy Badass, and SNUPE BANDZ, plus high-powered peers like Big Scarr, Jackboy, and 21 Lil Harold, DonaFizzo is available everywhere now via Paper Route Empire. 
DonaFizzo is the latest salvo in a busy year for Jay Fizzle and the rest of PRE. Fizzle kicked off the year with purpose, sharing "LLD," a heartfelt tribute to his mentor Young Dolph. Adorned with lush harmonies and a star vocal turn from Ricco Barrino, "Long Live Dolph" finds Jay Fizzle baring his soul, the South Memphis native audibly emotional when he relays his gratitude to his mentor for teaching him everything he knows: "The way I talk, the way I walk, the way I act, the way I dress/The way I do my thing up in the booth, I learned it from the best." With over 1.8 million views on YouTube, "LLD" is the opening track from Paper Route Empire Presents: Long Live Dolph, a compilation album from the independent label, which features appearances from nearly every artist on PRE, including Key Glock, Big Moochie Grape, Kenny Muney and more.
© 2022, Seth Barmash. All rights reserved.