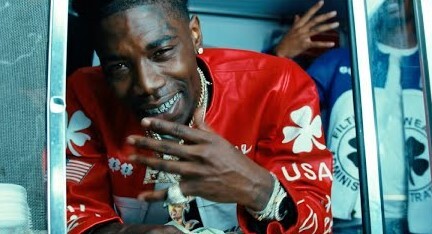 With his colorful charisma, street-wise raps, and a drawly flow that melts like butter over every beat, Jay Fizzle is as Memphis as it gets. Returning after sharing his DonaFizzo (Deluxe) mixtape, Fizzle shares his new video for the tape's lead track, "Gucci Mane." Over hypnotic guitar licks and bouncy, booming bass, the track finds Fizzle feeling like its titular trap icon, shaking off his enemies to continue the paper chase, while taking stock of the spoils of war he's stacked along the way: "I know they don't like me/I'm juiced up like a Hi-C/My neck and wrist so icy/I feel like Gucci."
The video for "Gucci Mane" plays out like Half Baked meets The Italian Job, as Fizzle and his duo of scantily clad accomplices plan to hit a lick as the video opens. Once they pick their target, a late night food truck, Fizzle's co-conspirators jump into action, commandeering the mobile kitchen. Yet, it's not the food or money on board the trio are interested in, as they set up shop and start packing foam food containers with a different kind of product.
The new deluxe edition of DonaFizzo is an embellishment of Fizzle's most accomplished project to date. Backed by cavernous trap beats by the likes of Bandplay and Sosa 808, the tape reverberates with Fizzle's desire to follow in Dolph's footsteps and take over the Dirty South. From the arcade villain-esque "Nike Check," to the Mission: Impossible-esque bounce of "50 Freaky B*tches" ft. 21 Lil Harold, to the furiously flex-heavy "Nothing Into Something," DonaFizzo hits harder than a bo-staff from start to finish. The tape is home to singles like the Memphis posse cut "Dust Town Livin" ft. Big Scarr & Big Moochie Grape and "Standin On Top Of Sh*t," a collaboration with Key Glock.
DonaFizzo (Deluxe) is the latest salvo in a busy year for Jay Fizzle and the rest of PRE. Fizzle kicked off the year with purpose, sharing "LLD," a heartfelt tribute to his mentor Young Dolph. Adorned with lush harmonies and a star vocal turn from Ricco Barrino, "Long Live Dolph" finds Jay Fizzle baring his soul, the South Memphis native audibly emotional when he relays his gratitude to his mentor for teaching him everything he knows: "The way I talk, the way I walk, the way I act, the way I dress/The way I do my thing up in the booth, I learned it from the best." With over 1.9 million views on YouTube, "LLD" is the opening track from Paper Route Empire Presents: Long Live Dolph, a compilation album from the independent label, which features appearances from nearly every artist on PRE, including Key Glock, Big Moochie Grape, Kenny Muney and more.
© 2022, Seth "Digital Crates" Barmash. All rights reserved.