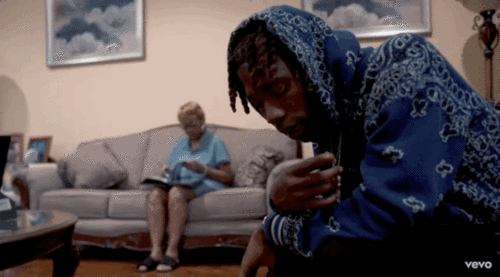 Just in time for the holiday of giving thanks – Jay Fizzle gives us a reminder to be thankful for family this holiday season in his latest video "Granny Happy." Filmed in the comfort of his grandmother's home, we witness the Memphis native through a raw and intimate lens surrounded by his closest family members flipping through scrapbooks and looking back on his childhood. This track is one of the newest tracks off his newly released Donnafizzo Deluxe album. Fizzle excels at finding unique pockets in each instrumental, stacking outlandish flexes in a torrent of tumbling syllables. 
DonaFizzo (Deluxe) is the latest salvo in a busy year for Jay Fizzle and the rest of PRE. Fizzle kicked off the year with purpose, sharing "LLD," a heartfelt tribute to his mentor Young Dolph. Adorned with lush harmonies and a star vocal turn from Ricco Barrino, "Long Live Dolph" finds Jay Fizzle baring his soul, the South Memphis native audibly emotional when he relays his gratitude to his mentor for teaching him everything he knows: "The way I talk, the way I walk, the way I act, the way I dress/The way I do my thing up in the booth, I learned it from the best." With over 1.8 million views on YouTube, "LLD" is the opening track from Paper Route Empire Presents: Long Live Dolph, a compilation album from the independent label, which features appearances from nearly every artist on PRE, including Key Glock, Big Moochie Grape, Kenny Muney and more.
© 2022, Seth "Digital Crates" Barmash. All rights reserved.