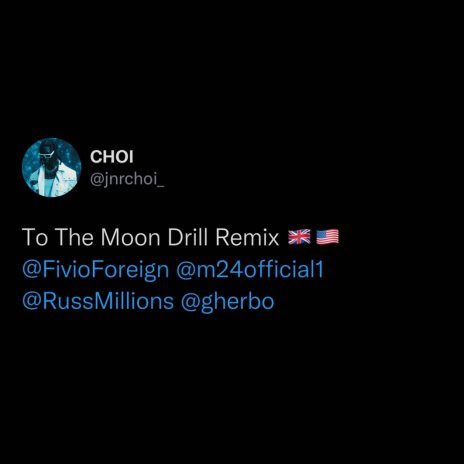 JNR Choi & Sam Tompkins, the dynamic duo behind "To The Moon," one of the most ubiquitous hits of the year, supercharge the song with a remix featuring two of drill's biggest stars, G Herbo and Fivio Foreign, and hometown upstart stars M24 and Russ Millions.
The original "To The Moon," already laden with the UK influence of Choi and Tompkins, is the perfect canvas for Fivio and Herbo, two of the brightest breakout stars of the stateside drill movement. They maneuver the hypnotic beat swiftly, playing to their strong suits as they accentuate the smash: Fivio doubles down on his high-octane flow and Herbo's slick wordplay keeps the listener's ears piqued. M24 and Millions sound expectedly at home on the UK-bred record, and primed to step into their stardom. Though it's a remix, the four collaborators sound as if they were destined to be linked.
To say that JNR Choi and Sam Tompkins burst onto the scene would be the understatement of the decade. The initial release of "To The Moon," which samples Bruno Mars' brilliant "Talking To the Moon," was met with global fanfare. Social media, specifically TikTok, embraced the infectious melody to the tune of tens of millions of videos, reposts, and challenges. Consequently, the song has been streamed over 125 million times on Spotify, and it evolved into the de facto social media soundtrack to the holiday season.
The viral record continues to build social momentum as recently Lebron James used "To The Moon" in his first-ever reel made on Instagram, which was shared to his 119 MILLION followers and garnered over 5.5M views in just 2 hours.
Simply put: "To The Moon" is the driving force behind its own era of social media sharing, and it legitimately clocked as a hit record in the process. The addition of Fivio, Herbo, M24, and Millions, whose sounds are either akin to or influenced by the UK's own drill movement, are seamless updates.
© 2022, Seth Barmash. All rights reserved.