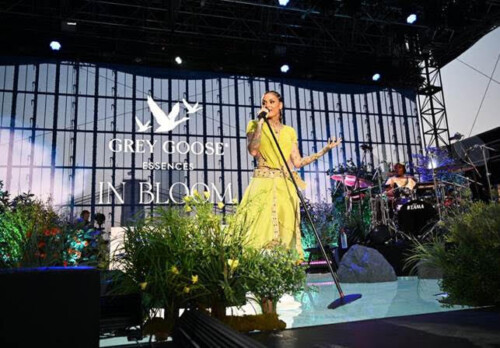 Bryan Bedder/Getty Images for Grey Goose Vodka
Kehlani had her first-ever performance of Blue Water Road at the "Grey Goose Essences IN BLOOM, Imagined by Kehlani" on Sunday night in NYC! The GRAMMY-nominated singer performed music from her album Blue Water Road for the first time ever, including Melt, which she dedicated to her girlfriend, singer 070 Shake, in the crowd. At the end of the show, Kehlani was moved to tears, thanking the audience for singing every word, and expressing her excitement for her global tour kicking off next month. The GRAMMY-nominated singer brought the blooming natural world of Grey Goose Essences to life through stunning, immersive performance, complemented with iconic views of the Brooklyn Bridge and NYC Skyline.
Fans went wild as Kehlani performed her new songs for the first time ever, including Melt, Up At Night, Altar as well as adored classics including Toxic, Nights Like This, and Hate The Club. Kehlani even sung "Happy Birthday" to an adoring fan who was celebrating their special day – and the whole crowd joined in! Model & performer DJ Millie brought big energy to the crowd as Kehlani's official opener, spinning upbeat tracks as fans filed into the stunning venue. Concert attendees sipped three Grey Goose Essences cocktails, including Kehlani's signature Essences serve, the Kehmami, which sold out within the hour. Following last year's virtual concert with SZA, the second IN BLOOM iteration brought a mix of in-person and virtual as nearly 4,000 fans flocked to Pier 17 for the concert, and even more fans worldwide tuned into the global Livestream.
© 2022, Seth "Digital Crates" Barmash. All rights reserved.