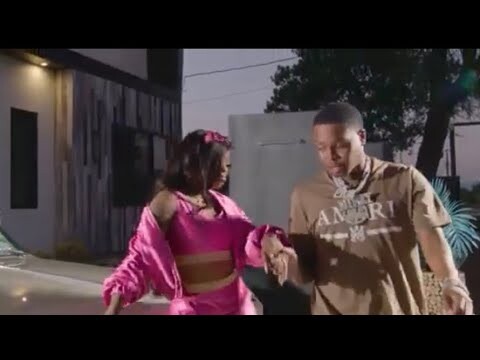 With a fast-talking flow and a mischievous grin, Kenny Muney proudly carries the torch for Paper Route Empire. Exploring the euphoria that accompanies a new relationship, the Memphis rhymer teams up with Dreezy for "Nobody," his new video. Produced by Ace Charisma, whose crisp guitar licks give the song a seductive swoon, "Nobody" is a romantic trap jam about an attraction so strong that it could make a player catch feelings: "Flying like a plane, you know she the co-pilot." Dreezy provides the female perspective, matching Kenny's melodic cadence and reveals how calculating she is about her romantic entanglements: "I'm bossy, but I'm independent/I'm bad to the bone but I'm good for his image."
In the video, an iced-out Kenny Muney kicks back at a mansion in the hills, surrounded by models but only thinking about the object of his affections. Clad in all pink from her sunglasses to her shoes, Dreezy pulls up in an old school Cadillac, hell bent on proving that she's worth obsessing over. At the end of the video, Kenny emerges from the mansion to steal Dreezy from directly under her man's nose. "Nobody" is a highlight from Time Is Muney, the most recent mixtape by Kenny Muney.
Released in February, Time Is Muney is a project suited for headphones–the better to be mesmerized by Kenny's hypnotic flows. The tape is home to recent singles like "Backend Freestyle," a flex heavy track that allowed Muney to reintroduce himself to fans, both new and old, and "Worthless," which received a tequila-fueled music video. Time Is Muney features guest appearances from Kenny's PRE associates Big Moochie Grape and Key Glock, Time Is Muney is available everywhere.
In the run up to Time Is Muney, the Paper Route Empire signee kept himself busy by releasing multiple singles, including "Lowkey," "For Kenny," "Long Time Coming," and "Poppin It." To kick off 2022, Kenny memorialized Dolph with "Role Model," a touching tribute to Dolph which racked up over 1.7 million views on YouTube in its first two weeks, and appears on Time Is Muney, as well as the recent Paper Route Empire Presents: Long Live Dolph mixtape.
With Time Is Muney, Kenny Muney showed that he has the talent and determination to succeed in the Empire-building business. Stay tuned for more from Kenny Muney and Paper Route Empire.
© 2022, Seth "Digital Crates" Barmash. All rights reserved.