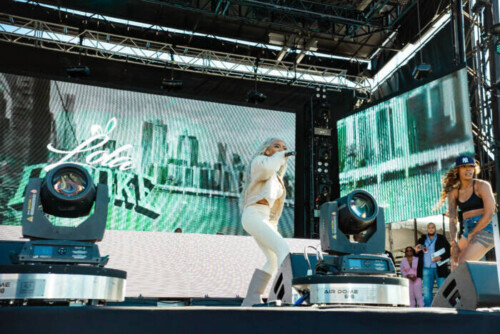 Photo Credit: Kadeem Olijah 
LOLA BROOKE DELIVERS ICONIC ROLLING LOUD NYC DEBUT PERFORMANCE
Brooklyn-born rapper Lola Brooke made her momentous  Rolling Loud NYC debut performance over the weekend. The heavy-hitting moment is the largest audience the rising rap star has performed for; however makes the case that this is only the beginning. #GatorSeason has officially commenced. 
Lola made her mark at Hip Hop's most significant festival in the world on Friday, September 23, at the renowned Citi Field stadium in Queens, New York, and dominated with her lethal lyrical flare and energy that attests to the undisputed work of the rising artist has disciplined herself to achieve to complement the grand moment. 
Lola made an iconic entrance to her unreleased track "Make Me Feel Good," which was previewed via BlockWork TV a few weeks ago, and unleashed performances to her well-revered tracks "Back To Business," "Options," "Shittin' Me?" and "Dummy Yummy." 
Lola closed out her set with her growing hit "Don't Play With It" complemented by chants of the track's lyrics from the masses. Lola brought out feature artist of track Billy B as the two Brooklynites made history together. "Don't Play With It" within the past month has garnered attention from new fans after Lola's 'From The Block' performance of the track went viral. Leading up to the legendary moment, artists such as Ella Mai, Saucy Santana and JT from rap-duo The City Girls went on record to praise the track and Lola's real/raw appeal for her artistry. XXL spotlighted the said track and co-signed Lola as one of 'Ten Drill Rappers To Listen To' last month. 
In support of her iconic moment, Lola conducted a B.T.S. takeover via Instagram with international platform HypeBae as she made her way to the DUSSÉ-sponsored Rolling Loud stage. Essence (Girls United) and Notion Magazine previewed the momentous occasion with exclusive editorials as Lola took to social media to cement her sentiments for the special moment she's worked endlessly to secure for herself independently. 
"New York City, we did it! What if I would of listened to the ones that said "Lola Brooke" image won't work! I am N Y C! I am B R O O K L Y N! This OUR culture' GATOR never gon let them take that from us! Thank You Rolling Loud! YOU GUYS HAD MY BACK WITH THIS ONE"
Lola shared an official recap video for Rolling Loud NYC via Instagram HERE.
WELCOME TO GATOR LAND.
LOLA BROOKE HAS ENTERED THE CHAT. 
LATEST SINGLE "GATOR SEASON" OUT NOW!
© 2022, Seth "Digital Crates" Barmash. All rights reserved.