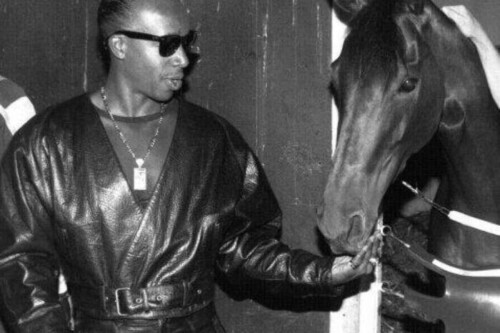 Horse racing has always been a prestigious sport that is attended by many individuals of the higher class. Over the years, horse racing's popularity grew into a more conventional sport for people of all classes, but the big money involved in these races, along with the huge expenses that come with horse racing still make it exclusive for certain people.
Horse races have always brought many big names on race days from government officials, to big celebrity names. For some of these individuals, horse racing grew onto them and they've become obsessed with horse racing.
That's the case with the rapper and songwriter MC Hammer, that became a true die-hard fan of horse racing. The rapper that dominated the 80s rap scene has become an entrepreneur after his retirement from music, and even at some point owned a piece of Twitter. Considering that he has more free time he turned to horse racing.
MC Hammer and His Love For Horse Racing
There is no denying that MC Hammer is a big horse racing enthusiast. His first encounter with horse racing was at the peak of his career and he is known for his lavish spending on horse races. After being introduced to horse racing, he immediately fell in love with the sport and even managed to establish his very own Oaktown Stable.
In 1991, MC Hammer set up Oaktown Stables, a stable that would subsequently very own nineteen thoroughbred racehorses. One of MC Hammer's horses named Lite Light participated in a multiple Grade 1 stake and managed to win some of them. 
Lite Light went directly to win the Kentucky Oaks against the reigning fillies at the time in 1991. MC Hammer's D. Wayne Lukas-trained horse named Dance Floor won the Grade II Kentucky Jockey Club Stakes and the Breeders' Futurity Stakes in 1991. In 1992, Dance Floor ran in the Kentucky Derby and managed to get third, which is the biggest success for MC Hammer.
MC Hammer Stable
According to some sources, MC Hammer spent a lot of money building his Oaktown Stable. In most cases, people start with a few horses, but known for his flamboyant lifestyle and huge spending, MC Hammer wanted to go big owning 19 thoroughbred horses at the beginning of his horse-owning journey.
Building a stable, and hiring trainers and other people to take care of the horses require a lot of money. Even the food for racehorses can bring up your monthly expenses to a point where you'd doubt whether or not it was a good idea.
Some sources suggest that MC Hammer spent around $1.2 million on his Oaktown Stable, including the 19 horses. Was this the most expensive horse related investment made by a hip hop artist? Probably so.
After building his stable, he managed to find success in the same year with his best horse Lite Light that performed really well in the races.
MC Hammer Lite Light was trained by Jerry Hollendorfer, and took a four-race win stream into Mother Goose, including victories on big races such as the Santa Anita Oaks (Grade 1) and Kentucky Oaks (Grade 1).
Lite Light also managed to win Coaching Club American Oaks (Grade 1) by seven lengths, where he raced with his rival the Meadow Star.
Lite Light raced until she was five years old but didn't get much success in the late stages of her racing career. With that said, Lite Light managed to participate in 26 races and won eight times. This brought career earnings of $1,231,596 making it the most profitable horse that MC Hammer owned.
Final Words
Eventually, MC Hammer's horse racing business came to an end after a while, but it turned out to be very profitable for him. Lite Light the horse that he owned got $1.2 million in career earnings, which means that he got back his initial investment in the stables. 
Of course, other horses also performed well in smaller races, making MC Hammer a lot of money during his horse racing journey.
© 2022, Seth "Digital Crates" Barmash. All rights reserved.