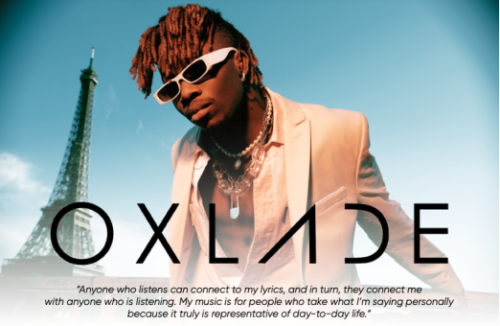 "KU LO SA" ADDED TO TODAY'S TOP HITS ON SPOTIFY USA!
THIS SONG IS TAKING OVER THE FALL IN THE US
OFFICIAL MUSIC VIDEO COMING SOON
#7 ON BILLBOARD'S US AFROBEATS SONGS CHART!
JUST DEBUTED ON THE GLOBAL SPOTIFY CHART AT #110 AND GROWING FAST
#17 ON GLOBAL VIRAL CHART TODAY
STREAMING ALMOST 2 MILLION TIMES PER DAY
Exploring new sounds, "Ku Lo Sa" is a summer-infused track backed with a strong vocal choir melody now characteristic of the artist's Afropop sound. Oxlade has built a solid profile over the past two years thanks to a pop, colorful yet edgy image, and a fiercely addictive Afropop sound. With a strong following on social media, Oxlade is becoming a prominent figure globally. With the potential of becoming one of the biggest music exports from Nigeria, the Lagos native is preparing to release a new project soon.
"Anyone who listens can connect to my lyrics, and in turn, it connects me with anyone who is listening. My music is for people who take what I'm saying personally because it truly is representative of day-to-day life." [Oxlade]
Oxlade broke out with the hit "Away" which received cosigns by the likes of Drake and Naomi Campbell and was named one of the "Top 50 songs of 2020" by Rolling Stone – making Oxlade the only Nigerian artist featured on that list.
Follow Oxlade
Instagram | Twitter | TikTok | YouTube | Facebook
© 2022, Seth "Digital Crates" Barmash. All rights reserved.