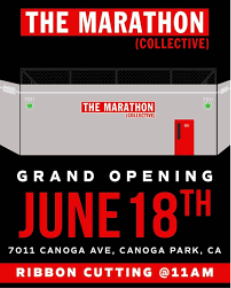 Nipsey Hussle's extraordinary legacy continues with this weekend's long awaited grand opening of The Marathon (Collective), a premier THC and CBD retail store at 7011 Canoga Ave. Los Angeles, CA 91303. The first official Marathon (Collective) flagship dispensary will be open for business daily from 10:00 am to 10:00 pm daily beginning Saturday, June 18, with a very special ribbon cutting ceremony to be held at 11:00 am.
"This is something we always spoke about," says Hussle's brother, Samiel "Blacc Sam" Asghedom.  "Nipsey, Fatts, Adam, and I had a goal to get a legitimate licensed store and have our brand in other stores across the state. We're so honored to be able to fulfill the dream."
The Marathon (Collective) celebration got underway last month with the premiere of The Marathon (Cultivation), a feature-length documentary exploring the life of the late, great rapper/entrepreneur and the challenges he and his business team faced as they grew a multi-million-dollar cannabis business. The film – which had its debut earlier this week with an exclusive rooftop screening at Los Angeles, CA's new The Marathon Clothing store No. 2 – is streaming now via YouTube HERE.
© 2022, alanna. All rights reserved.