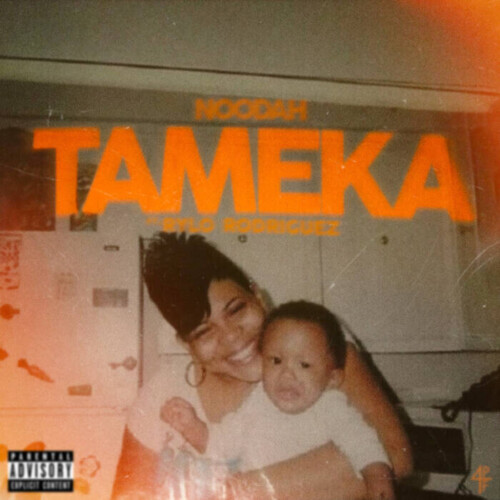 A young buck with the wisdom of an OG, FourPocketsFull artist Noodah05 had to grow up fast. Paying tribute to his mother on a heartfelt trap anthem, Noodah shares "Tameka," a track that bears her name. Over an emotional instrumental from Chi Chi, which samples the 2016 hit "Immortal" by  Elly Duhé, the Atlanta rapper delivers a confessional verse with drawly melodies, thanking his mother for providing for him and mourning friends that he lost in the streets. Fellow 4PF rapper Rylo Rodriguez joins him for the second verse, croaking a memorable 16 about how he copes with the difficulties of street living. In the video, directed by Diesel Films, Noodah shows how his mother has always been there to take care of him and how she inspires him to better himself every day.
The moving "Tameka" is Noodah's second single and Diesel Films-directed video of 2022. It arrives in the wake of "Breathe," a menacingly airy banger that finds Noodah delivering frenzied flows that leave his enemies gasping for air. Both "Tameka" and "Breathe" will appear on Underrated, Noodah's upcoming mixtape, arriving soon via FourPocketsFull.
The two new singles continue Noodah's rapid rise through his hometown scene, which started soon after he picked up the mic for the first time in 2018. With an artist name that derives from a nickname given to him by his grandma, Noodah linked up with Lil Baby, who was impressed to hear a neighborhood kid rapping with such emotional sincerity. Baby signed Noodah to his FourPocketsFull imprint, and gave him a boost by hopping on his single "Wild Child," also produced by Chi Chi, which has more than 11 million views on YouTube and 20 million streams across platforms. Noodah continued to turn heads with his 2020 project Merciless, home to "Wild Child," and his 2021 effort Reborn, featuring appearances from Vory, Bankroll Freddie, and Noodah's fellow 4PF signee Lil Kee.
Stay tuned for much more from the 4PF stunner, who is determined to validate Lil Baby's faith and follow his footsteps on the path to trap stardom.
© 2022, Seth Barmash. All rights reserved.