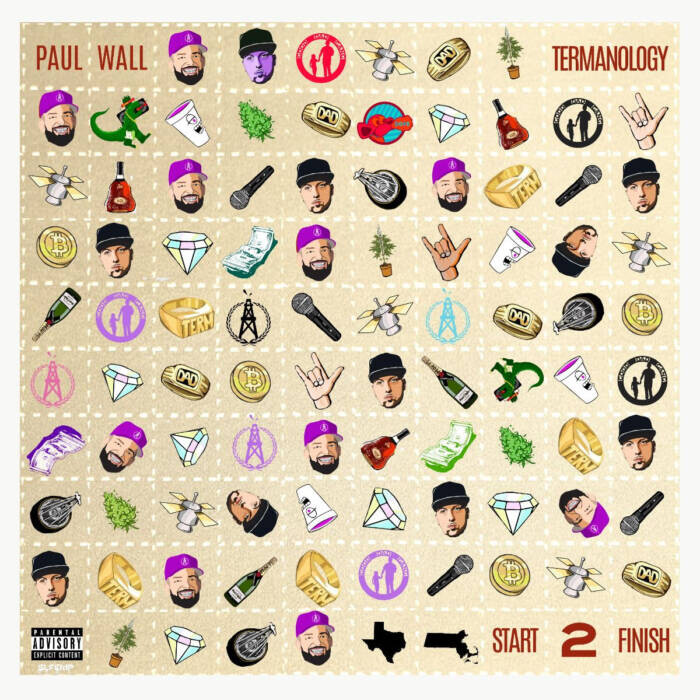 Paul Wall & Termanology have just shared their joint album Start 2 Finish and the visuals for the track "Thailand" featuring Bun B. Across 10-tracks, Paul Wall and Termanology deliver a project that's in a lane entirely its own. Bringing along his classic Houston flair, Paul Wall supplies rhymes unlike anything else in his long-standing career, while Termanology lays down the crafty bars & expert flows synonymous with his name. Start 2 Finish is a meeting of the culture of two of the biggest hip-hop cities, Houston and NYC, with the final product being a project that is wholeheartedly a dedication to both MC's respective hometowns On the jazzy cut "Ask Permission", Paul & Term rap over a superb Statik Selektah beat and truly exhibit why they hold such a legendary status in hip-hop today. "How You Been" is produced by Dame Grease featuring a smooth hook from Mia Jae and is a smooth standout track on the project that shows the natural versatility of Paul & Term. The well-curated visual for "Thailand" provides an homage to H-Town and shows Paul & Term spitting alongside hip-hop icon Bun B, with all parties providing a masterclass in lyricism & artistry. Start 2 Finish is an organic meeting of Paul Wall & Termanology, with the common denominator being a love for rap and striving to continue writing the legacy of a pair of enigmatic figures in hip-hop.
Start 2 Finish is a gritty & genuine collaborative project between Houston legend Paul Wall and the acclaimed tri-state rapper Termanology. Although the two MCs are from completely different worlds, what binds them together creatively is the constant pursuit of greatness on the mic. Even at his legendary stature, Paul Wall has always been a student of the game, and what excites him the most these days is what's happening in the underground. This natural curiosity led him to the rap phenom Termanology, through a recommendation from their mutual friend and legendary NYC producer Statik Selektah. Paul & Term hold Statik in high regard, so the introduction was not taken lightly. After a few meetings and recording sessions, Term & Paul recognized an undeniable creative connection. The two became frequent collaborators and close friends, so the idea of working on an album together came naturally. The ethos behind the tape was to make an authentic, NYC-style hip-hop album, with Paul Wall rapping in a completely different style outside of his traditional wheelhouse and Termanology supplying the hard-hitting raps he's known for. Start 2 Finish features production from Statik Selektah, Dame Grease, who produced a majority of DMX's It's Dark and Hell Is Hot, the iconic producer Pete Rock and even Term himself. The impressive guest list doesn't stop there, with verses from Bun B, Nems, Millyz, Fly Anakin, and Kxng Crooked adding even more layers to the album. Paul & Term previously teased the flavor of the joint album with the previously released singles "No Tolerance" featuring Fly Anakin & Nems, the Pete Rock-produced "Recognize My Car", and "No Asterisk". Along with the release of the album, Paul & Termanology released signed a limited number of vinyl copies of Start 2 Finish which sold out before the release date. This project is truly a meeting of the depths of hip-hop's underground and the upper echelon of rap's royalty, all wrapped up in a sea of smooth beats and tight rhymes.
© 2022, Seth "Digital Crates" Barmash. All rights reserved.