Baby Demon is the newest rap artist from Philadelphia, Pennsylvania. Even though he has just started creating music a year ago, he is on the fast track to being a worldwide success. Him and his friends were rapping when they realized he had a natural talent. From there, he says, "I just ran with it!"
One of the things Baby Demon prides himself most on is releasing new music every month. His latest single, 66 Piece, is out now. He collaborates with Pluggedinsounds, HideMiyabi, and Curtdarula. When we asked Baby Demon what his goals are in the music industry, he replied, "I want every label to know Baby Demon. I want them to fight over signing me. I'm telling you, when I'm on the stage,  the crowd can't help but feel my energy. I want the whole music industry to feel my energy." 
Although he has some obstacles, such as battling family issues and making sure his children are well taken care of, he has plenty to be proud of. His biggest accomplishment is opening for Bizzy Banks in New York and Jay Critch in Boston. In addition, his YouTube Channel is blowing up. He just passed 600k views, with over 4k in watch hours in his first year alone! "My favorite video is probably my most recent drop "66 Piece". Go Tune in!" he said.
Baby Demon is not currently signed to any label, as he is an independent artist. One of his biggest rewards in life is what listeners take away from his music. He wants his followers to know that he came from nothing, but that never held him back. He hopes to inspire people all around the world to know that they can achieve anything they set their mind to. 
His biggest musical inspiration is Meek Mill. Baby Demon appreciates all that he did for the city and that memory of giving back will resonate with him forever. If Baby Demon could work with any artist on a track, he would love to collaborate with Lil Durk. Be on the lookout for Baby Demon –  "I have a tape coming in the summertime but haven't put a date on it. I have another visual dropping next month too. We're going crazy!"
Baby Demon wants his supporters to know how much he appreciates them, "without y'all I don't know where I'd be, forreal," he says. To find out more about Baby Demon and upcoming music be sure to check out his Instagram and Spotify.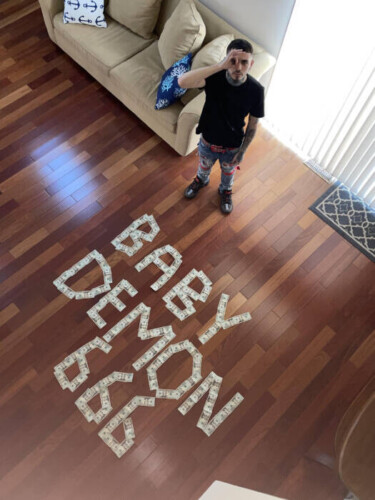 © 2022, Eros Entertainment. All rights reserved.