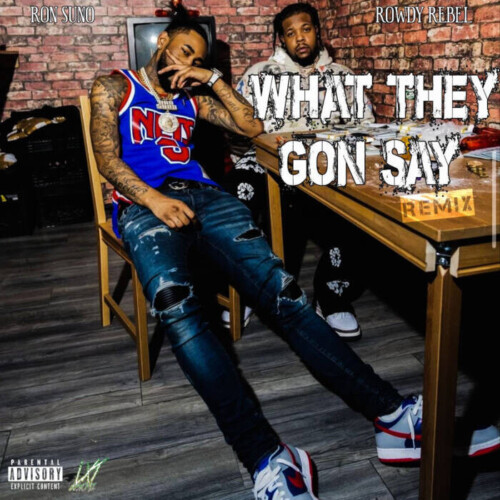 Winning fans with his unique blend of skills, Ron Suno built up a massive following on Instagram (over 1 million followers), YouTube, SoundCloud, and TikTok with his amusing skits and admirable artistry. A charismatic force with the rap capabilities to earn effortless viral attention with each Instagram post and music release, Ron Suno is a necessary force of fun in today's drill scene. Though he's known for bringing the ruckus from borough to borough, Ron's coming with a different energy this summer with SUNO MODE, his next project.
Along with the announcement, Ron shares the Rowdy Rebel-assisted remix of his explosive late 2021 single, "What They Gon Say," which earned over 8.5 million YouTube views, 15 million Spotify streams, and nearly 200k TikTok video creations using the sound. The unmistakable track, bolstered by a compellingly hectic MPbeatz instrumental of pitched up violin and hasty hi-hats, finds Ron and Rowdy keeping their calm amidst chaos while delivering a barrage of memorable bars: "Glrrt-boom, Glrrt-boom, you can get sent to the Citizen News." The red-hot Doomi-directed video for "What They Gon Say (Remix)" sees the cross-borough duo counting racks in the kitchen of a house in flames. Lesser rappers can't stand the heat, but Ron and Rowdy deliver it– too sturdy to lose their cool, even in a burning room.
SUNO MODE serves as the followup to 2021's Jokes Up, which saw the rapper weave his comedic charisma into cold cadences. A master of many disciplines, Suno approached the creation of Jokes Up with laser focus, determined to prove his worth as a rapper. Combining a locked-in flow with snappy lyricism and quips that humorously undercut his bravado, the SBL rapper nimbly tiptoed atop skittering hi-hats and went toe-to-toe with some of the finest rappers in the Five Boroughs. The project is home to booming singles like "Winners," a fiery collab with Brooklyn figurehead Sheff G that has over 2 million views on YouTube, "GRABBA," a fiercely slick banger with a remix featuring DUSTY LOCANE, and "Drill Zoo," featuring the one-and-only Fetty Wap, with over 1.5 million YouTube views.
With the BX on his shoulders and the drill scene in his hands, keep your eye on Ron as he prepares to go SUNO MODE this summer.
© 2022, Seth Barmash. All rights reserved.