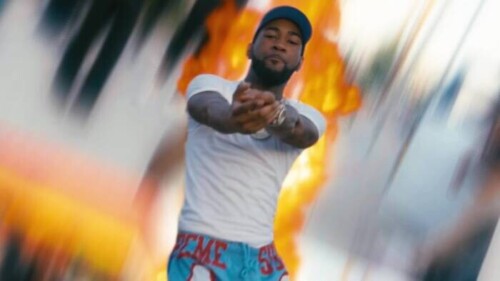 Since staking his claim as "King of the Bronx," Ron Suno has yet to turn down his charismatic intensity. Returning to expand his empire beyond the BX, Ron teams with Brooklyn heavy-hitters DUSTY LOCANE and Rah Swish to share his new video single, "SHOES," from his upcoming SUNO MODE project.
The MP Beatz & YMadz-produced track, anchored by the oddly effective coupling of hair metal guitar riffs and reggae-stye offbeat strums with drill percussion on the instrumental, finds Suno and company ringing off cautionary flexes to the opps: "Don't got the chopper, get punched out his shoes/N****s they know what I do." The Benny Max-directed video for "SHOES" sees Ron, Rah, and DUSTY doing the most from coast-to-coast. Whether they're busting it down animal-style outside an In-N-Out or jumping MTA's digital displays like a turnstile, it's a movie whenever New York's sturdiest step out.
SUNO MODE embodies the raw energy Ron injects into his music, with wide-ranging instrumental influences adding a unique flavor to each of its 15 tracks. SUNO MODE comes on the heels of "What They Gon Say," Ron's recent smash hit that racked up over 15 million streams on Spotify and 11 million views on YouTube. Home to Ron's recent "What They Gon Say" (Remix), which features a guest spot from Rowdy Rebel, SUNO MODE arrives August 5th via SBL/EMPIRE
SUNO MODE serves as the followup to 2021's Jokes Up, which saw the rapper weave his comedic charisma into cold cadences. Jokes Up is home to booming singles like "Winners," a fiery collab with Brooklyn figurehead Sheff G that has over 2 million views on YouTube, "GRABBA," a fiercely slick banger with a remix featuring DUSTY LOCANE, and "Drill Zoo," featuring the one-and-only Fetty Wap, with over 1.5 million YouTube views.
With the BX on his shoulders and the drill scene in his hands, keep your eye on Ron as he gears up for a SUNO MODE summer.
© 2022, Seth "Digital Crates" Barmash. All rights reserved.