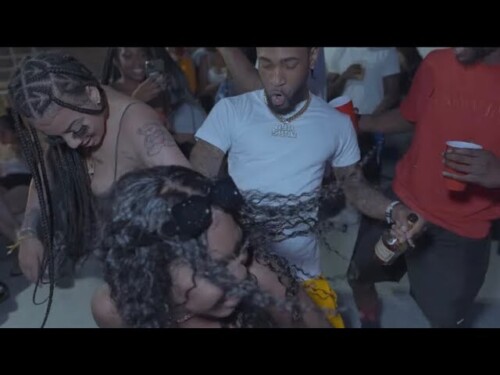 As he strives to expand his empire beyond the borough that birthed hip-hop, Ron Suno is certainly no stranger to breaking boundaries. When in New Jersey, Ron does as New Jerseyans do with his new video for "ONE NIGHT." A standout from the recent SUNO MODE project, the track showcases Ron's genre-bending abilities as he delivers his signature fast-paced flows over a thumping Jersey Club beat injected with elements of Bronx drill.
"'ONE NIGHT' spoke to some of the more Jersey sounds that I know are popping off and I wanted to combine that with the Bronx sound," says Ron Suno. "I want to work with more Jersey and Philly artists because once you hear it, you know that's where they're from."
Shot by Benny Max, the video for "ONE NIGHT" finds Ron and company making the club look like a dub compared to the backyard kickback they're turning up. With red solo cups, an assortment of bottles, and lawn furniture scattered throughout the scene, the clip evokes the nostalgia of unforgettable memories made at pre-games and after-parties that outshined the main event.
Already a proven inspiration to the youth with the project's viral single, "What They Gon Say" (over 22 million Spotify streams and 12 million YouTube views) and its Rowdy Rebel-featuring remix, SUNO MODE elevates Ron's infectious energy to new heights. Whether he's blending his Bronx drill sound with familiar favorites on "OH LETS DO IT" or letting his refreshingly reflective side shine on "FALL OFF," the fast-paced project progresses without a dull moment. The new project is home to "SHOES" ft. DUSTY LOCANE & Rah Swish (2.3 million+ views in three weeks), a showcase for New York's sturdiest steppers.
"I turned a switch on, unleashing a new power," says Ron. "I think about video games, and how there's a mode you have to get in and it can make you invincible. When I'm in SUNO MODE, I'm invincible."
With the BX on his shoulders and the world in his hands, keep an eye on Ron while he's in SUNO MODE all summer.
© 2022, Seth "Digital Crates" Barmash. All rights reserved.