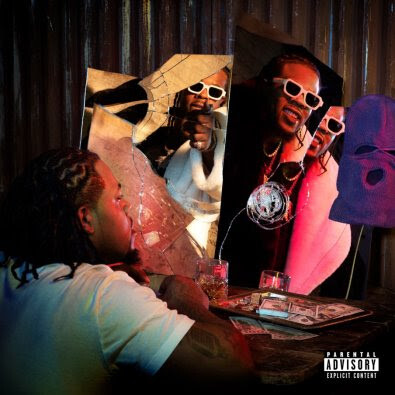 Brooklyn-bred drill star Rowdy Rebel unleashes his long-awaited debut album and one of the most anticipated releases of the year, Rebel Vs Rowdy via Epic Records.
The dynamic, dark, and deep 18-track project boasts the single "New York" [feat. A Boogie Wit Da Hoodie & Jadakiss]. The track's airy production sets the scene for these three New York titans to join forces on a modern East Coast anthem punctuated by the perfect proud declaration, "I'm from New York." It bridges three eras of New York rap on one banger. Elsewhere split into two halves, Rowdy leans into the bold bounce of "2022 Master P" [feat. French Montana], while "Fuck The Opps" takes no prisoners. "Paid Off" [feat. Fivio Foreign] delivers a dose of drill without compromise, and "Married To The Streets" [feat. Dreezy] doubles as a melodic pledge to the game. Then, there's "Gangsta Testimony," which might just be his rawest and most real moment on tape yet.
Rowdy's NYC takeover was in full effect leading up to his release of the new project with a star-studded celebrity basketball game on Wednesday followed by an exclusive album release party & performance from Rowdy & Friends last night in NYC, the night of the album release.
He teased the album's release with "Woo Nina." Right out of the gate, it generated 582K Spotify streams and counting as well as 2.8 million YouTube views on the music video. Inciting tastemaker applause, Village Voice observed, "Rowdy Rebel takes to the streets to 'Woo Nina'," and Our Generation Music hailed it as "one of his most energetic tracks to date." In addition, he received plugs from Complex, REVOLT, and more.
"Woo Nina" followed, and somewhat contrasts, Rowdy's previous release "Rowdy vs. Rebel," a more solemn look at Rowdy's character, which sometimes prefers to ask forgiveness rather than permission. "Rowdy vs. Rebel," which has amassed 1 million views, leans into the rapper's storytelling and his ability to craft a narrative, while "Woo Nina" serves as a reminder that at any moment, Rowdy is available to fulfill his role as an OG of Brooklyn's current-gen rap scene.
And that's exactly what he does on Rebel Vs Rowdy.
© 2022, Seth "Digital Crates" Barmash. All rights reserved.