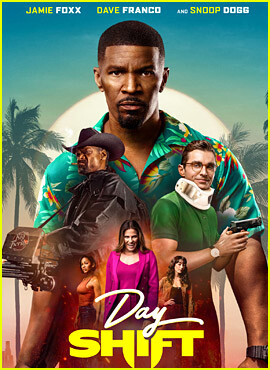 Audiences around the world can't get enough of "Day Shift," a new comedy/horror action film on Netflix featuring Jamie Foxx as Bud, a Los Angeles pool cleaner and retired vampire hunter in Los Angeles who is forced to get back into the slaying game.
"Day Shift" is currently Netflix's most popular film and is currently streaming in 110 countries. Part of its appeal is an amazing soundtrack featuring new and classic hip-hop songs, including "Bud (Mowing Down Vamps)," a collaboration created by the BSB Boys, a group of friends and fellow musicians including J Young MDK, a singer from Atlanta, Jamie Foxx, and singer Sam Pounds, a noted producer and singer from North Carolina.
On Wednesday, a recognizable name was added to the ensemble: superstar Snoop Dogg, who released an authorized remix of "Bud (Mowing Down Vamps.)"
Snoop Dogg also appeared in "Day Shift" as a fellow vampire hunter. The experience made him a big fan of the group's single as well as the epic video, which features J Young MDK and the rest of the BSB Boys driving through Hollywood.
"The first thing that happened was that we released the video, and we were thinking how dope it would be to have the legend Snoop Dogg be part of it," said J Young MDK. "He heard it and wanted to be on it, and everything was perfect! It's been amazing to be able to work with him and with Jamie Foxx, two legends I grew up being fans of. It's actually been pretty surreal at this point and super crazy."
Snoop Dogg's version of "Bud: Mowing Down Vamps" also features J Young MDK, Jamie Foxx and Sam Pounds.
Entertainment fans may recognize J Young MDK from his music and acting roles. He was recently nominated for Outstanding Actor in a Short Film, "Mixed Girl" at the Micheaux Film Festival.
In the movie, he stars as a young man who comes to discover he is a father to a teen girl. The film shows how he tries to turn his life around to take more responsibility and let her into his life.  
J Young MDK has also appeared in "Feds Did A Sweep" and Netflix's "The App That Stole Christmas," along with a slew of other movies and commercials.
Earlier this year, he joined Latto on her 777 Monster Energy Outbreak Tour, which played several sold-out shows around the country. He released the hit single, "Slow Motion" in the spring, and plans to release his fifth album "Forever Young" later this year.
J Young MDK also made musical history in 2020 by releasing two complete albums in different genres on the same day, followed by another album a week later.
He, the BSB Boys, and Snoop Dogg notably attended the red carpet premieres of "Day Shift" in Los Angeles and Atlanta.
Check out "Day Shift" on Netflix, download "BUD"(Mowing Down Vamps) on all digital music streaming platforms, and stay updated on J Young MDK on Instagram at @jyoungmdk.
© 2022, Seth "Digital Crates" Barmash. All rights reserved.