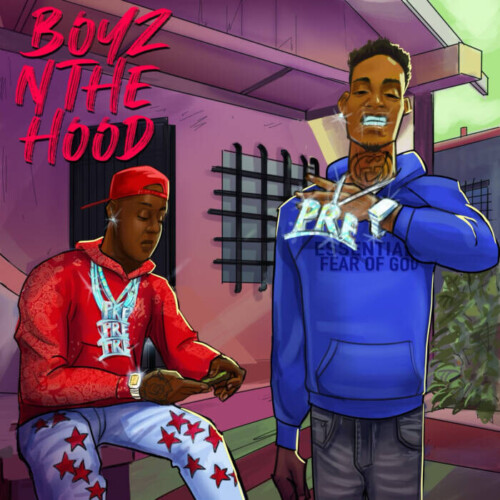 With their money-hungry motives and natural chemistry behind the mic, SNUPE BANDZ and PaperRoute Woo form the latest electrifying tag team to emerge from the South. Showcasing their complimentary styles, with SNUPE as the effortlessly high-flying stunner and Woo as the domineering hard-nosed tactician, the duo shares their new joint project, BOYZ N THE HOOD. Though their Southern synergy is felt throughout the project's 15 tracks, each artist's individual strengths shine through brilliantly – on "When I'm Bored," Woo's flex-heavy ferocity emerges in rare form, while SNUPE dazzles with his head-turning hooks and clever rhymes on standouts like "Team Player." With high-energy features from Arkansas' own Bankroll Freddie and the crunkstar himself, Duke Deuce, BOYZ N THE HOOD is available everywhere now via Paper Route Empire.
Along with the joint album, the pair share their new bicoastal video for the standout track "Loyal." In the SoCal spirit of the John Singleton film that inspired the project's title, the clip for the bass-thumping track opens on SNUPE as he rolls through Studio City in a baby blue Corvette, with Woo tailing close behind in his blacked out Hellcat SRT. After posing before a mural of their mentor Young Dolph and sliding through Compton to pick up packs, the duo reemerges on the East Coast with their black and blue whips at Philadelphia's Wells Fargo Center. With Paper Route Empire comfortably seated atop their city, the "Boyz" could be coming soon to a hood near you as they look to expand their dominance.
SNUPE BANDZ and PaperRoute Woo have a long history of collaborations, dating back to 2020's "In My Bag" and continuing through last year's "Pop Out," which drew 1.8 million YouTube views. Both SNUPE and Woo joined their mentor Young Dolph on "Nothing To Me," a standout single from last year's PAPER ROUTE iLLUMINATi mixtape, generating over 8.9 million views, and they later took the stage in remembrance of their role model during a tribute set at Rolling Loud California. The two Memphis natives made memorable appearances on Paper Route Empire Presents: Long Live Dolph, the recent PRE compilation tape: SNUPE shined on his solo showcase "I Know Why," and connected with Joddy Badass for the sensual "I Like," while Woo flashed his mastery of flow in "Fully Equipt."
© 2022, Seth "Digital Crates" Barmash. All rights reserved.