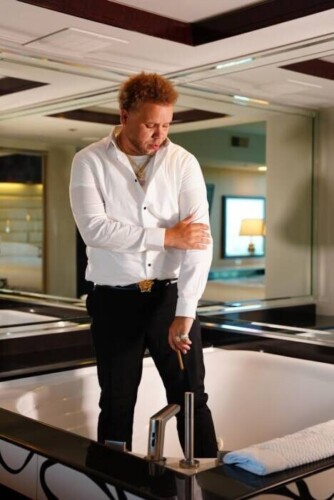 St. Louis, Missouri is a different city. Especially when it comes to hip hop. Rapper Nelly, with his radio friendly raps, and a host of comedians such as Cedric the Entertainer, Lavell Crawford and the late Redd Foxx sometimes make it seem as if St. Louis is an old school type of place to live.
But the city is not all peaches and cream, STL is actually one of the most dangerous cities in America.Rookie rapper Don Killam wants to unearth the city's dark-side, where gang violence, drugs, murder and poverty run rampant. His latest effort, We Made It, does just that:
It's just after 6:30 P.M. on a quiet Tuesday evening when best selling author Don Kilam strolls through Ima Kill Music Group's office with his Publicist. The New press runs has the rapper extremely tired, but he must push on. Because later in the evening, he is hosting a strip club in Atlanta.
Despite the fatigue, Don Killam with his mentor Dj Montay is enveloped in a cool sheet of good spirits. But his welcoming persona didn't come without hardships.
" Born Jeffery McBride Jr. in Quincy, Illinois Don Killam spent a chunk of his childhood struggling in hud housing between Quincy & Hannibal, Missouri. At the age of 17 he landed himself behind bars which he states shifted his life direction. At the age of 18 he was a felon, a father, and a college student. His memories of Hannibal are that of an abusive house hold and father and alcoholic.
But throughout all of the trials and tribulations, Don Killam has always had music. And back in 2019, he finally gained attention when his up-tempo, "Dreams Obey Narrators" hit radio. The song picked up more steam when Benzinos camp first caught wind in Atlanta. Then, Fresco Kane took notice of the talent by reaching out to Don Killam and hosted an event with Chingy in Atlanta for Don Killam.
YouTube: https://youtube.com/c/DONKILAMDOTCOM
Amazon: https://www.amazon.com/s?i=stripbooks&rh=p_27%3ADon+Kilam&s=relevancerank&text=Don+Kilam&ref=dp_byline_sr_book_1
Instagram: https://instagram.com/don_kilam
Music Links: https://distrokid.com/hyperfollow/thedonkilam/we-made-it-feat-fresco-kane-2
Google Panel: https://www.google.com/search?q=the+don+kilam&ie=UTF-8&oe=UTF-8&hl=en-us&client=safari
© 2022, Logan. All rights reserved.