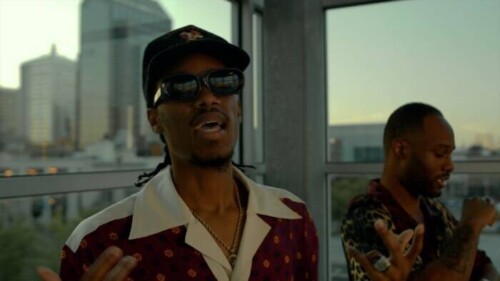 Masters of the DIY grind, Louisville rap crew The Homies know how to have a good time. Today, the 4-man collective comprised of Ace Pro, 2forwOyNE, Shlobb, and Quiiso share the new video for "Thirsty." Produced by group member 2forwOyNE, "Thirsty" combines elements of two late '00s rap cuts–using a sped-up sample of Drake's "Houstatlantavegas" and vocals of Missy Elliott's "Ching-A-Ling"–into a cohesive and incredibly catchy whole. Directed by Ace Pro, the video has a breezy summer vibe, as The Homies play beach volleyball with a group of fine ladies. The follow-up to "Shake," which arrived with a Hype Williams-esque video, "Thirsty" is a highlight from It's A Lot Going On, The Homies' next album, and it arrives shortly after they hosted celebrities like Jack Harlow, Cole Bennett, Master P, and many more for their annual Celebrity Kickball Tournament in Louisville.
The perfect recipe to cool down the dog days of summer, It's A Lot Going On compiles 14 brand new tracks into a sleek and boisterous package. Ping-ponging from the hard-hitting trap on tracks like opener "Out Here" and the funky "Had To," to effervescent rhythmic anthems like "Goat Mami" and "Trouble," the album is buoyed by the chemistry of the four artists. Marked by playful lyricism and easygoing melodies, It's A Lot Going On percolates with creative energy and signals even bigger things ahead for the Derby City natives. With appearances from Marzz, Jace, and Australian artist Mason Dane, who The Homies met on a recent sojourn Down Under, It's A Lot Going On arrives on August 19th.
The "Thirsty" video arrives shortly after The Homies announced that they'll be joining their Private Garden co-founder Jack Harlow on his "Come Home The Kids Miss You Tour" this fall. Also featuring support from the City Girls, the 26-date tour gives Ace Pro, 2forwOyNE, Shlobb, and Quiiso the chance to show off their performance chops in front of arena-sized audiences. The tour kicks off on September 5th in Cincinnati, just a few miles up the road from The Homies' hometown.
With much more music on deck and an unshakeable passion for their craft, The Homies are ready to follow in the footsteps of their friend Jack Harlow from the Louisville underground to the rap mainstream. Sit back, and watch their rise.
© 2022, Seth "Digital Crates" Barmash. All rights reserved.