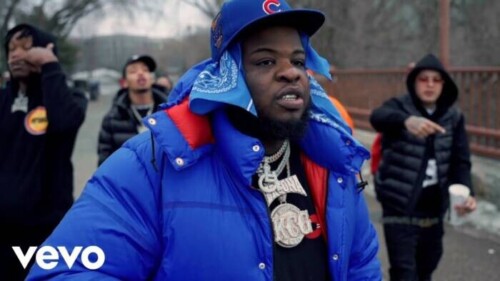 The last time Maxo Kream released a studio album was his third, WEIGHT OF THE WORLD. This album featured 16 songs and additional contributions from The Creator, Tyler, Monaleo, Freddie Gibbs, A$AP Rocky, and Don Toliver. The Houston emcee made a big comeback earlier this week with the release of "JIGGA DAME," a Diego Ave, Papiyerr, and Bankroll Got Loud production that sees him incorporating what he learned from Dame Dash and JAY-Z:
There is a matching video for "JIGGA DAME" thanks to DGreen Filmz. In spite of the short video, there is a lot of footage of Maxo Kream hitting stages and interacting with other artists, including a Tyler moment you shouldn't miss. Additionally, viewers can catch him showcasing his crew's set, detailing high-end jewelry and cars.
The American leg of Maxo Kream's "Big Persona Tour" has wrapped up; the tour has been underway since March 2022 and has taken him to venues in Minneapolis, Detroit, Philadelphia, Atlanta, and Washington, D.C. After that, he heads to Australia in July for shows in Sydney and Melbourne.
© 2022, Derek Charles. All rights reserved.