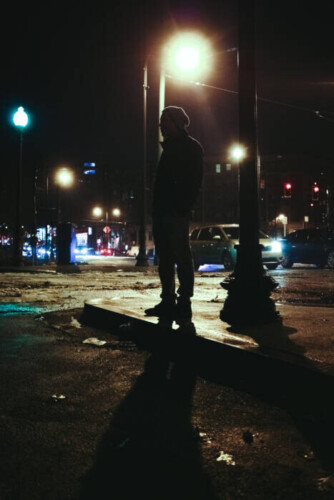 Today, lofi beats seem to have a place in the hearts of music lovers everywhere- whether it's to study, calm their mind after a long day, or simply to set a good vibe, the genre is a positive part of daily life for many. Boston-based producer Wes Yee, incredibly well versed in the world of lofi even likens it to "the perfect soundtrack for the majority of a person's day" as he explained the cultural impact. But beyond the surface of everyday listening, there is a rich history behind the genre- and Wes filled us in on its beginnings, role in the modern world, and the significance it holds for him personally.
"I love the idea of beats to study or chill to, but it's deeper than just that for me because of my background," Wes explained. "As soon as lofi beats became hot, I was so happy. As a first generation Asian American, I grew up watching a lot of anime and I had a subscription to Shonen Jump, which was a Manga magazine that would feature one chapter of the most popular Manga or Anime at the time. As an adult, I realize that the whole point of it was to be one big ad to buy the actual Manga and binge read them as opposed to waiting every month for the next chapter, but as a kid I loved them." Expanding upon the roots of anime and lofi, Wes touched on the producers behind it all. "One of my favorite producers is a Japanese producer named Nujabes, who produced all the music in the anime Samurai Champloo which is where a lot of the influence for lofi beats originated. He'd put these amazing jazz and soul samples behind hip-hop drums in such a unique way. He followed the footsteps of the J Dilla's, but made the sound his own. Now modern lofi producers, including myself, are doing the same thing Nujabes did and taking what he gave us and making it our own too."
Diving deeper into his own background and why lofi is so special to him, Wes gave us a look into his past and culture. "My parents sacrificed a lot to immigrate to this country. They both came from poverty and my mom was 15 when she moved to the United States. In China, she told me that she used to sleep on a wooden block and walk a mile and a half both ways to a well to get her water for the day. When she moved here, she had to go into elementary school as a teenager to learn how to speak English, and she worked really hard to get a decent paying 9-5 and give my sisters and I a better life. For my generation, that's the Asian American experience, and a lot of our parents want us to follow in their footsteps and get a better paying 9-5 than the one that they have. The idea of success to them is different than it is for some of us (myself included)." As far as his own path to production, Wes explained "Seeing Nujabes gain notoriety in the United States and the anime/Asian culture influence in lofi beats is one of the reasons it really speaks to me… I got obsessed with hip hop when I was in 6th grade and I first heard 50 cent's song "Candy Shop" on the radio… the beat was so captivating to me and the groove that comes from hip hop music was the coolest thing at the time, and to this day honestly. I'd also been studying jazz music religiously and lofi beats blend my culture with my favorite styles of music."
On the success of lofi beats in the modern world, Wes credits this to its soothing and universal nature. "As cliche as it sounds, music is one of the few universal languages that exist. You can catch a vibe from an artist speaking a completely different language than you can understand- although you could lost some relatability. Lofi beats curve that problem since they are typically instrumental. That being said, artists like Kota The Friend and Tobi Lou are making really dope songs rapping over them… still, instrumentals take out the potential language barrier for anyone." Expanding on the power of lofi speaking to people of all cultures and ethnicities, Wes went on to explain, "Kudesaibeats (@kudesaibeats) is a Filipino/Mexican producer who lives in California with a Japanese alias. In Love With A Ghost (@lvghstmusic) is a French producer making lofi beats with heavy Japanese influence. Poetics (@prodbypoetics) is a Caucasian producer from Arizona and I'm a Chinese American from Boston. These lofi producers are testament to the fact that the music is completely universal and there's no question why the genre has had so much success."
Wes concluded, "When someone listens to lofi beats while they're studying, working or doing homework, they want music that lowers their stress level and they want numerous songs back to back that can all do that. The fact that anybody of any nationality, ethnicity, life background or language can create this music- the fact that anybody of any nationality or ethnicity, life background or language can hear and understand the emotion it's trying to convey is a really unique and beautiful thing to me, especially because I feel like my life has been centered around a lot of different cultures."
If you haven't gotten your fix of lofi today, this may be your sign- and we highly recommend you start with Wes Yee's catalog which is linked below. Be sure to also check out the stand-out lofi producers mentioned here, both legendary and contemporary.
https://open.spotify.com/album/4NKfSY2uIyrb2WKWiT9Cpz?si=3KIvcnAJTcqcAPA5jogs
© 2022, Tedfuel. All rights reserved.