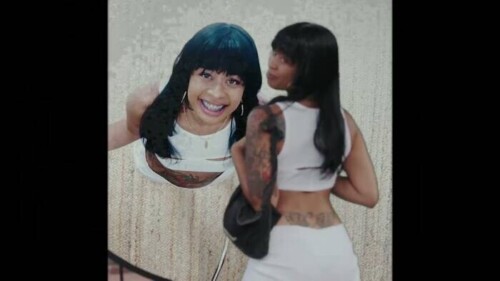 TiaCorine, the immersive North Carolina-born artist, has just shared her new single and video "Dipset" along with the announcement of her forthcoming debut album I Can't Wait, out 8/26 via South Coast Music Group. "Dipset" is a head-turning hip-hop track spotlighting Tia rapping at a breakneck speed while paying homage to the legendary NYC supergroup of the same name. Her lightning-paced flow, poised presence and candy-colored rhymes mesh effortlessly over the euphoric sample-chopped instrumental. The animated video runs through a typical day for TiaCorine: waking up on a Hello Kitty tapestry in a silk robe, throwing on a voguish outfit and embarking on a light-day of shopping at her favorite hometown store Stay Grimey before painting the town red with her friends––and ending with an appearance from one of her favorite cartoon characters, Kirby. Through her impressive single-run leading up to the release of I Can't Wait, TiaCorine has proven time and time again that she is an all-encompassing artist––with the bouncy and captivatingly melodic cut "Gas Station" to now "Dipset", a track showcasing her backpack rap-style. It's clear that her bag of musical tricks is endless, and with the release of her debut album I Can't Wait alongside features like her longtime collaborator Kenny Beats and underground Atlanta phenom Tony Shhnow, fans and critics will finally be able to hear the next phase in the fascinating journey of TiaCorine.
In 2018, TiaCorine exploded on the scene with her viral hit "Lotto", a track that gave the world a glimpse into her wide-ranging musical influences like Nicki Minaj, Luther Vandross & Paramore. She followed up the massive momentum of this track with her critically-acclaimed EP, 34Corine with tracks including, "Mine", "30", & "Avril Lavigne" a punchy homage to the pop-punk icon of her teenage years. The EP garnered cosigns from a diverse array of artists like SZA, A$AP Rocky, and Rico Nasty. After seeing the success of the EP, Tia put together a deluxe edition of the project, The Sage of 34Corine, which featured superstar DaBaby on "Lotto – Part 2" and production from Bankroll Got It as well as her close-knit collaborator and friend Kenny Beats. Tia went on to perform at major festivals including Rolling Loud Miami, Day N Vegas, and Rolling Loud NYC.
© 2022, Seth "Digital Crates" Barmash. All rights reserved.